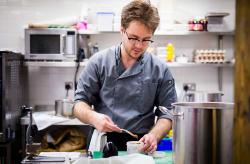 Masterchef's youngest ever winner (in 2011), Tim Anderson is planning on opening up a new restaurant, Nanban in London this year, with details currently closely under wraps. The focus will be on Southern Japanese food, specifically Kyushu, where Tim lived for two years, but also cuisine from the islands of Okinawa.
Ramen will feature heavily on the restaurant menu. Anderson is not only putting four kinds of ramen together, but will offer a special rotating ramen menu, along with tapas style ramen dishes to encourage diners to experiment. In fact all of the dishes at Nanban are designed to be shared, a concept that is very popular in Japan.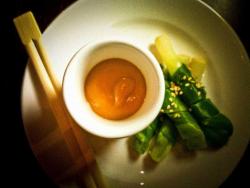 The American chef is keen to point out that Nanban is not a ramen bar, though. London has seen a string of ramen restaurants open up recently. Shoryu offers something more old school than the trendy Bone Daddies, with Tonkotsu serving the Asian noodle soup in a fun, functional environment and Ittenbari providing a fast, authentic experience in London's W1.
While London's chefs may be hot on the heels of this American trend, Anderson is offering a very unique style of ramen restaurant. Putting his very distinctive stamp on this popular phenomena, his cuisine is very much fusion food. Anderson has been introducing London's diners to his concept in a series of very popular pop up restaurants, all of which have been sell-outs.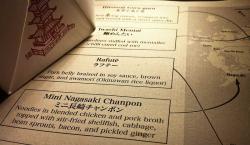 At a recent pop up at Hackney's Prince Arthur pub, diners were served six umami-laden courses at a very reasonable 29 pounds. Hitomoji Guru-guru was an exquisite dish of bundles of blanched spring onions, which were dipped in sweet miso. The Iwashi Mentai was outstanding; grilled sardines were stuffed with mentaiko (a chilli-cured cod roe), showcasing Anderson's unique fusion style. Pork belly braised in soy sauce, brown sugar, and awamori (Okinawan rice whiskey), known as RafutÄ" was tender and sweet. The meal was rounded off with a black sesame sponge with green tea whipped cream.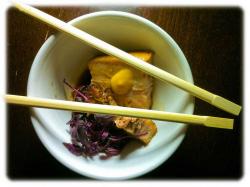 Japanese ice cream will be an important feature of Nanban and appear on a rotating menu. Known as'soft cream', this not overly sweet dessert is usually flavoured with local ingredients, some as strange as sea urchin. Anderson plans to offer flavours more palatable to British diners, some as black sugar or plum wine.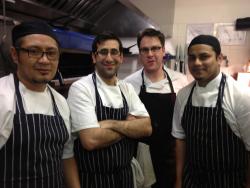 Perhaps strangely, this chef claims that the focus of his restaurant will be drink, not food. Drawing on the izakaya experience in Japan which offers food to accompany the drink, not the other way round, Nanban will showcase a robust selection of drinks, with the focus on beer and shochu.
Only one Japanese beer will be on sale though as the idea is to serve local brews, including one made from sweet potato in a very local brewery in Stoke Newington, Hackney. Shochu is a delicious Japanese spirit that will be served straight but also in innovative Japanese cocktails.
Photo of Tim by Paul Wynch-Furness