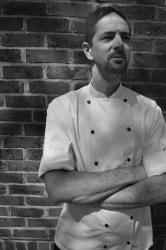 Titled 'Food For Food's Sake', Jordan's residency features a five-course tasting menu (vegetarian option available) and will see the launch of House of Wolf's first a la carte menu, which will be available from Wednesday 19th June featuring three small plates, four mains, three sides movement of the late Victorian period and their bohemian creed of 'art for art's sake', with dishes created to be beautiful and give stimulation to those that eat them,through presentation, taste and smell.
Simply Cooked, Traditional Techniques
Both menus draw heavily on classic British and French cuisine and whilst many of Jordan's preparation techniques are contemporary (in one dish apple peel is fermented in ascorbic acid in order to retain the sharpness of colour); Jordan's preference is for simply cooked food, using traditional techniques. 
New tasting and a la carte menus
Diners visiting House of Wolf's restaurant can look forward to a tasting menu (£39.50) featuring dishes such as baby violet artichoke marinated in soft herbs accompanied by blood orange segments, orange crisps, young broad beans and a blood orange and vanilla reduction.
Also there will be rump of lamb marinated in red wine and thyme served with spelt, wild garlic and salsa verde. Alternatively they can venture to the Music Hall or Apothecary Bar and try the newly launched a la carte menu (£5-£16) with small plates such as duck nuggets and gravy as well as pulled pork, toast and pear cider sauce.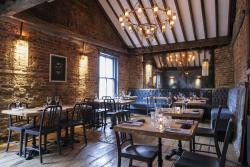 Mains including slow braised beef short rib with mustard mash and honeyed carrots or deserts such as chocolate and hazelnut marquis with praline vinaigrette and mint sugar cream or Carignan poached pear with bitter chocolate, olive oil ganache and boozy snowflakes.
During Jordan's residency, guests can also expect to see pink veal and goat meat. Jordan is a passionate believer in reducing waste from the food chain, and so along with other chefs is championing the use of the meat from young male goats and cattle, which have historically been slaughtered and burnt due to lack of demand.
Bringing new meaning to cocktail glasses
Guests can opt for a wine-pairing menu, or enjoy some experimental cocktails either at their table or at the House of Wolf's Apothecary Bar.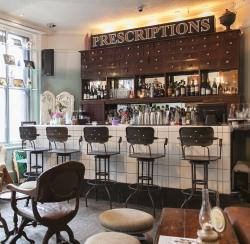 Featuring house-made infusions, premium spirits and fresh fruits, herbs and spices
The cocktail menu designed by Bar Manager Stephen Quainton puts the whimsical back into the cocktail experience and guests may well find themselves drinking from a vase of flowers, shooting their drink from antique hypodermics into an apothecary vial or supping on cocktails infused with ingredients as abstract as black pudding or garnished with insects.