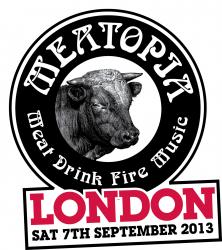 Do you go crazy for the meat sweats? It's quite a current craze – the consumption of meat until your heart feels like stopping and you have a strange desire to vote Republican, even though you aren't American.
Well good news for you Meatopia, the biggest festival of Meat and BBQ in New York, San Francisco and Texas, is coming to London. This'Carnivore's Carnival' has been running for six years in NYC and will be the latest addition to London's American food surfeit by coming to Tobacco Dock for one day only on September 7th 2013.
Described as a'meat lover's paradise' (New York Magazine), Meatopia is a celebration of BBQing, smoking and grilling.  It's a'rare breed' food event led by chefs such as St John's Fergus Henderson, the ubiquitous Gizzi Erskine and Pitt Cue's Tom Adams who will all be creating bespoke dishes.  US grillmeister Aaron Franklin will be creating Texan BBQ, smoking his brisket 15 hours ahead of the event.
All of the chefs and restaurants will produce their dishes in handy'tasting' sized portions so guests can try as many of them as possible, which is sensible given the subject matter
There will also be chefs from the US such as Boqueria's Seamus Mullen and California's Tim Byres, chef patron of SMOKE. Pat LaFrieda, a 3rd third generation meat purveyor and supplier to NY restaurants, will be sharing his experiences alongside Tuscan legend Dario Cecchini, from the artisan butcher shop in Panzano-in-Chianti.
The meat will be British reared and raised on independent farms and smallholdings and supplied by the respected Turner & George.
There will be craft beer of course, aged spirits and pairing wines and we're told'supercharged sets, jaw dropping live performances, chuggy jams in dark corners and jump-up lunatic dance along smashers from bands and DJs spanning the genres'. Hmm, no classical then.
And to add to the fun there will be cabaret, cirque, art installations, roaming performance, immersive activities and'random acts of weirdness', apparently.
How to book:   www.seetickets.com
Ticket prices:
Tier 1 £45 Includes tokens for 2 taster dishes and 2 drinks.
Tier 2 £85 For the true meat monster. Includes tokens for 6 taster dishes and 6 drinks. Plus express queuing for the bars and a Meatopia  goodie bag. The cost of a cab to A&E after is not included.
Teen £35 As per Tier 1.
Child £0 Children under 12 are free but still need to book a ticket to gain entry. As per Tier 1.
Opening times: Midday – 9 p.m.
Tobacco Dock  – 50 Porters Walk London, E1W 2SF