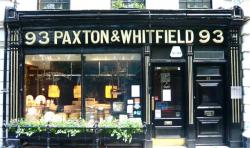 Paxton and Whitfield are one of the country's oldest and most respected cheese mongers and so I'm always eager to try their latest and greatest. In the lead up to the festive season, the team at Paxton and Whitfield have created the Trio of Contemporaries selection, a line-up of fresh and imaginative cheeses to liven up your typical cheese plate.
Beauvale is a pasteurised cows' milk cheese that's relatively new to the artisan British cheese fold. Four years in the making, it was developed by Robin Skailes of Cropwell Bishop Creamery to provide a handmade British substitute for all the soft blue cheeses that are imported from the continent. The hand-ladling of the Beauvale helps to make it so soft. Creamy and richly flavoured but not overwhelming, this cheese is absolutely delectable.
Bosworth Ash Log is an unpasteurised goats' milk cheese made by Stella Bennett and her son Joe at Innes Cheese, Highfields Farm, Staffordshire. For this cheese, the process starts while the milk is still warm to take advantage of the natural anti-bacterial enzymes present in the freshly-drawn milk. This also helps to retain a fuller flavour creating a cheese with a soft and fragile taste and texture. Bosworth has an unusually light and fresh citrus flavour with an unctuous texture, the perfect foil to the richness of other cheeses.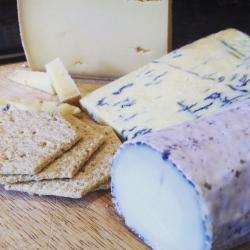 Hubaner is an unpasteurised  cows' milk cheese. This Alpine-style, aged hard cheese is made by a modern Austrian co-operative creamery near to the Swiss and German borders. Hubaner has quite a creamy texture for a hard cheese and a lovely mild and nutty flavour. I really liked this one.
The advice from the experts this year is to buy less cheese but in bigger pieces. The reason for this is that larger pieces of cheese store better. If you keep them in the waxed paper they arrive in, you'll also give them a longer life in the fridge as they'll be allowed to breath while being kept moist. And if you store your cheese well, it can mean only one thing – more leftovers to enjoy!