On a sunny Saturday afternoon Tom heads to Mamma Anna & Co for pastry-perseverance and plonk.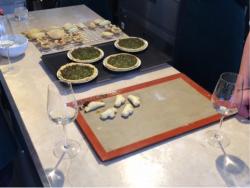 I look either side of me. Rolling pins sweep forward and backwards across pastry, flour litters the counter top. I'm sure their attempts look thinner than mine; perhaps my technique isn't quite right. I get distracted and by the time I look back a large hole has appeared in my rolled out disk.
I pause but before panic has time to set in Anna slides in front of me. "This is no problem", she says, smiling, before skillfully sliding the pastry off the counter, laying it into the pastry tin and with a few quick squeezes it perfectly fits and the hole has disappeared.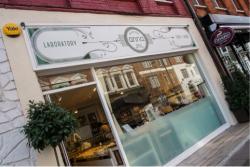 I am spending a Saturday afternoon on an Italian cooking course at Mama Anna & Co. A small deli, come cooking school, come dining club on Charleville Road in West Kensington which is owned and run by Anna along with her two sons and her daughter. It's an unassuming, but very neatly branded little shop front, a short walk from West Kensington station.
We mix ricotta cheese, spinach, an egg, parmesan and some seasoning then pour the mixture into our freshly made pastry cases. Fabrizio, one of Anna's sons, then whips them away to be cooked. He tells us we have just made a Pasqualina, a typical Italian Easter dish, and that we could add other things next time we make one. Perhaps some different vegetables, some speck, or more egg cracked into pre-made wells in the filling before baking.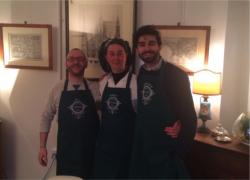 Anna and Fabrizio work brilliantly together making sure the four of us on the day's course know exactly what we are doing, why we're doing it and giving us other ideas to use in the future. They're not only knowledgeable though, but also friendly and work hard to ensure everyone there, regardless of cooking skill, feels comfortable. 
After the Pasqualina we make a range of other pastry-based treats before Marco, another of Anna's sons, takes us to the side for a short wine tasting. Marco is an award winning sommelier, who learnt his trade on Michelin starred restaurant floors, and this really shows as he explains the key differences between the younger and more mature Gavi wines. As we sip and learn Fabrizio begins taking our finished pastries out of the oven and placing small plates of them in front of us to try. 
We chat, drink good wine, and eat freshly baked pastry and before I know it the afternoon is slipping away.
At the end of the lesson Fabrizio boxes up all of our food to take away with us, then him, Anna and Marco answer any questions we have.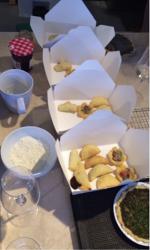 They also show me downstairs, where, in the cellar, Anna has recreated a dining room she had in Milan with the original furniture. They use this for social dining events at weekends at which they serve a six-course menu, all paired with Marco's chosen wines. I am currently trying to fix a date in which to attend one because along with new pastry skills, the other thing I learnt at Mamma Anna & Co, is that they know how to look after you.
I left the class feeling suitably full, and more importantly like I had actually learnt something. But the most surprising thing was still to come when later on that evening, at a rather drunken house party; our Pasqualina was eaten more quickly than a tipsy-food staple, Dominos pizza.
Cooking classes cost £42 per person and are themed to the time of year. Mamma Anna & Co opens Monday to Saturday 11.30am-7.30pm.
Rather someone else did the cooking? Take a look at what Paul thought of Ceru.