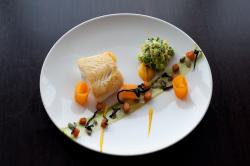 Mark Poynton says he became a chef to escape his mother's "poor cooking," Born the same year as your correspondent (1980), Poynton, an obsessive chef and erudite wine connoisseur, grew up in Chester. There, aged 15, his first job in a restaurant was not in its kitchen, but as a part-time waiter. "But I soon discovered chefs had more fun and also finished in time for last orders at the pub," he jokes.
After working at the Queen's Hotel, Chester, a role which included the loathsome duty of "making sandwiches for ungrateful office girls," then commis chef at Shrigley Hall Hotel, Pott Shrigley, Poynton proved his determination to acclaimed chef, Paul Kitching of Altrincham's Juniper restaurant by working for him initially unpaid. Of Kitching, who describes his current domain of Edinburgh's'21212′ as having "an electric, mellow-yellow kitchen, where we warm, caress and slowly cook," Poynton remarks: "some called his cooking wacky. But for a 20 year-old like me, it was wonderful to be involved in it, producing wild 20-course menus."
Poynton was drawn to Cambridge by Midsummer House, a restaurant on the verge of gaining its second Michelin star. Although he ended up working in the somewhat cramped Victorian riverside villa for seven years, it proved hard to get head chef, Daniel Clifford's attention at first. "I asked mum to fax my CV to Daniel, who promptly dismissed it because the receipt read'Chester Bowling Alley' where she worked." Fortunately, a number of determined phone calls resulted in an – albeit unconventional – interview which began with a case of mistaken identity. "Confusingly, the restaurant manager, Justin, who baked the bread, opened the door in chefs' whites!" Poynton toiled under the scrutiny of Clifford that morning, prepping chickens. "By lunch, he'd offered me the garnish chef's job," recalls Poynton.
Poynton has been at Alimentum's stoves since 2008, and in 2010 with at-last stable investment, he took control of the business himself. "But I think it's only now that I'm starting to really understand the food I want to be serving to my customers," he says. "It's totally focused on the seasons. Even though you can get fantastic products all-year round like frozen peas (which many a top chef prefers to fresh) I stick to the seasons which are there for a reason. This fits into Alimentum's ethical, sustainable ethos which includes local sourcing where possible, and energy efficient appliances."
Poynton's pretty, precise and intensely palatable dishes saw the French Michelin guide bestow him his first star this year, testament to a kitchen team which includes his brother, Andy and the at times, very trying years spent with mentor, Daniel Clifford. His latest achievement will be the three-week tenure of Marylebone's Landmark Hotel's flagship Winter Garden restaurant. Set amid convincing palm trees at the foot of an eight-story tall atrium where Coldplay might emanate a grand piano and maids in pinafores can just about be glimpsed drawing curtains at turn down, dishes include: chicken wings, roast scallop, pumpkin, chestnut and bacon; bright white halibut, squash purée, pumpkin seeds, creamed cabbage and trompettes (pictured), and baked yoghurt, cherry and pistachio. Although Poynton admits that some critics have found the latter a marmite dish, your correspondent, who has tasted it in two incarnations over as many months, thinks it an imaginative highlight.
Despite the scale of the undertaking and great expectations (the hotel was once the territory of nervy chef, John Burton-Race), Poynton, who has previously advised Londoners to take time to travel outside the capital, "where a great many chefs are working hard to get noticed," is ultra-keen to take the helm of the five star's kitchens. "I'm looking forward to showing Londoners what we're all about…"
Alimentum at The Landmark occurs Tuesday to Saturday evenings, 20 November- 8 December. Three courses for £45; six for £65 and the ten course'blind' menu at £95. For those wishing to stay at The Hotel, Poynton's six-course menu, accommodation and English breakfast for two costs from £390 for two.
222 Marylebone Road, London NW1 6JQ