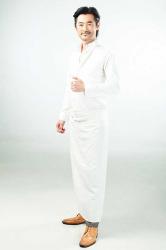 Keith is invited to a table with Yasuji Morizumi, the first Ramen chef to get a Michelin star, and the creator of the menu in London's new Asian fusion restaurant, Pacata.
You can imagine my surprise when I was shown to my seat and on the table in front of me were two slices of gala melon draped with prosciutto, a sprig of mint leaf lying on top. I was here, after all, for a table with Yasuji Morizumi – a Michelin starred Japanese Ramen Chef.
But it became obvious that Morizumi was here to make a point. And through his interpreter, he begins to explain:
'That,' he says, pointing to the melon,'is not cooking. It's just a bunch of ingredients… an appetiser at best.'
Morizumi speaks with an endearing timidity, however. Not a note of bumptiousness, just matter-of-factness.
I am listening intently as he chops black olives into rock salt size pieces, in the time it would have taken me to undo the lid. His action remains graceful.
'Mixing the same ingredients with a pestle and mortar, however. Well that would be cooking,' he continues.
He pushes the chopped olives onto a square plate with his knife.
'It's spring in Japan at the moment. So these olives represent the soil. You see, what I'm doing here is turning these ingredients into a dish. And presentation plays a big part of that,' he says.'We are also adding a story to the dish, you see.'
Having laid the olives on a square plate, he scoops the seeds out of the melon and puts the fruit into a blender. Then, pouring the liquid into a small wooden bowl, he takes some prosciutto (which has already been dried crisp in the oven) and places that in the bowl too. The result – something that looked like a puffer fish (the protruding prosciutto its tail). It got me thinking I was subject to a Japanese foodie joke… we've all heard the stories of death by Japanese puffer fish.
So, using exactly the same ingredients, Morizumi had laid in front of me a dish that looked totally different. And it tasted different, especially where consistency is concerned.
'Take ingredients, respect them, and change their order, the way they look. That's what fusion is to me,' said Morizumi.
I have to confess, his idea was implicitly simple.
To continue the fusion theme, I ask him how he starts to think about a dish.
'You always have to start with a base,' he says.'It's never just 50/50. In this restaurant, for example, the base is Thai cuisine.'
'Do you have a favourite ingredient, something you regularly revert to' I ask.
He thought for a moment.
'Salt,' he said.'You can do so much with it. You can take the oil out of meat with it, you can add salt to the oil, even. We use it in lots of ways in Japan.'
'Do you ever relax when you eat?' I ask.
'No,' he says.'When I'm eating melon, I'm thinking: what would this work with? How can this be done differently?'
Finally, the interpreter confirms my thoughts about Morizumi. One of the things he loves about him is that he's easy going. He's as happy going into Pizza Hut as he is a top restaurant. There's nothing remotely pretentious about him.'
Now I feel much better prepared for checking out Pacata's menu, which I'll be reviewing in part two…