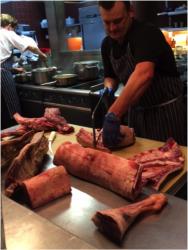 Tom heads to Merchants Tavern to talk lamb and the Lake District…
I remember one evening, along time ago; my accomplice and I were making our way through Shoreditch after a few drinks, searching for a final stop off before being chucked back down south by the Northern Line. It was just off Great Eastern Street that we spotted a subtly branded pub front, where we enjoyed a few drinks and talked about how we should return.
The place was called the Merchants Tavern and sadly due to the shuffle of London life we never made it back, until the other day.
The restaurant's Head Chef, Neil Borthwick and the infamous Angela Hartnett are running a series of Kitchen Counter Workshops at Merchants Tavern offering the opportunity to learn about the sourcing and production of ingredients, as well as how to turn them into decent dishes. We were lucky enough to go along to the first one, a session all about lamb.
No just any lamb though. "This is Herdwick Lamb", announced Dan from Lake District Farmers. We were all sat around the Merchants Tavern Kitchen Counter, coffees in hand with chefs prepping for lunch in the background.
Dan, along with everyone who spoke to us that day, was one of those people who sizzles with passion. He could have a laugh, make a few jokes about the'sophistication' of Londoners, but underneath there was a clear love for the work that he does. He told us about the 53 (give or take one or two due to wine consumption) Lake District farmers he worked with, how they dreamt of Herdwick lamb becoming appreciated and how over time his business had built up a respectable list of customers from Angela to Marcus Wareing.
He, and his butcher, then set about turning half a lamb into several cuts.
I always enjoy, although it might sound rather strange, watching butchery. In reflection that actually sounds very strange. Still, butchers are fairly big blokes, holding quite big knives, yet the way in which they can butcher an animal is almost graceful, the skill and precision is impressive.
After learning about what makes Herdwicks so special, passing around several bits of meat and watching as shoulders became rolled and racks were French trimmed, Neil joined us to teach a few simple recipes with the lamb.
He created incredible lamb sausage rolls and some meatballs with just enough spices to give them a middle-eastern nudge. We were also served wines to enjoy them with, which at midday on a Saturday were perfectly timed.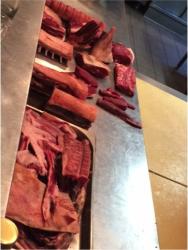 As Neil cooked, him and Angela were on hand to answer any questions, give tips and basically be bloody friendly. Sat in a small group of ten, I think we all felt genuinely impressed by the personal touch the chefs are clearly giving in these workshops.
After the meatball came a Navarin of Lamb served on wet polenta. The lamb flavour punched strongly through the creamy stew, which was the perfect main for a slightly grey October afternoon.
More wine, plenty of questions, a delicious ginger cake, a few people leaving, more wine, a few more questions, it was time to leave; which was a shame because I could have sat in Merchants Tavern talking to Lake District Farmers all afternoon.
We wandered off down to Bishopsgate smiling, infected by the passion we had seen. Because the truth is, it can be quite hard to find.
Too often people say they don't like their jobs, they don't like where they live, they're not that happy with their partner, yet it is quite clear that Dan, Neil and Angela are more than just happy with what they do, they couldn't do anything else.
There are a couple more Kitchen Counter Workshops over the next few weeks, which have unsurprisingly sold out, but keep an eye out for any last minute places or upcoming events. The Kitchen Counter can also be booked for a five or seven course meal.
Saturday 14th November:
Merchants Tavern Market Day Hosted By Neil Borthwick at Spa Terminus market and Merchants Tavern Neil Borthwick tackles the challenges and extols the joys of market shopping and cooking with vegetables. Neil will give a guided tour of London restaurateurs' favourite market – Spa Terminus in Bermondsey. The tour will introduce the market's finest vegetable traders and Merchants Tavern's suppliers while giving a chef's guide to market shopping. Guests will be taken back to the Tavern where they will work with Neil to prepare a two-course vegetarian lunch, which will be served at the Kitchen Counter with wine accompaniments.
Saturday 21st November:
Merchants Tavern Pasta Making Class Hosted By Angela Hartnett and Neil Borthwick at Merchants Tavern Angela and Neil will teach guests to create three different kinds of pasta and an array of accompanying sauces as well as how to use lardo and pancetta providing the skills to create show-stopping Italian dishes. The guests' personal creations will be served at the Kitchen Counter as part of a two-course lunch with paired wines.