Beer & Buns. Boom! Does exactly what it says on the tin. But Lucy finds that there are wings too, and damned tasty ones at that.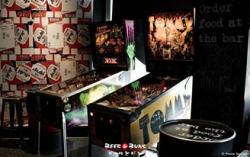 Beer & Buns is tucked up above the kitsch Japanese canteen'K10′.  A yomp up the stairs rewards you with a warm waft of fragrant spices. This buzzing joint is a welcome addition to the surrounding concrete jungle of Liverpool Street and it is filled with a healthy mix of the suited and booted, as well as a sprinkling of cool hipster kids.
 As cliché as it sounds, the atmosphere is fantastic.  A couple of pals were laughing at fooseball, a flirty twosome were play fighting on the pinball machines and a post-work group were chowing down on the Chicken Katsu'Hirata' buns. I was reminded of local American bars coupled with a twinge of East Asia, and the music, oh yes! The power tunes of Aretha and Led Zeppelin were blasting out and it was impossible not throw some dance shapes as we entered.
Once we'd grabbed the table, or should I say upturned beer barrel, and attempted to gracefully mount the rather high metallic stools – which for someone of my short frame proved a tad difficult  – the lovely Jon guided us through the extensive Japanese craft beer menu.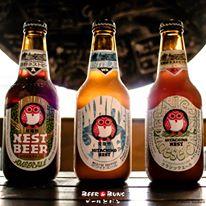 He told us the story behind the sweet potato-flavoured'Coedo Beniaka' (ask the man himself to tell you when you go). For the record, that particular beer came top of our list of favourites.  The lovely gentleman I brought along with me went for this smooth, dark ale number and it would have been rude of me not to have had one or two sips to try, am I right?  No regrets, even an inexperienced ale drinker like me could appreciate those malty notes.
But let's get on to the food.  Brace yourselves!  So, on the advice of our pal Jon, we picked the pork and chicken Hirata buns and the Tebasake Soy wings.  One word of advice, don't bring along someone who is embarrassed to eat with his or her hands.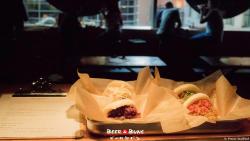 Considering I was on a'date' this was one sure way to break any awkward ice – tear apart some delectably sticky chicken delights and wash it down with some fine ale. These buns were little pillows of soft delight, rammed full of flavours – I suppose they are best described as the'Japanese cousin to your classic bap'. These are beginning to be found on menus throughout the UK, but this is certainly the place to visit for your introductory Hirata.
The minimal menu demonstrates that the focus is on quality and freshness rather than wide choice, and all of the waiters knew the menu inside out, which is always a big thumbs up in my books.
I waddled out of B&B full of deliciousness and a newfound crush on the wonderful Jon.  Worth going just for him!