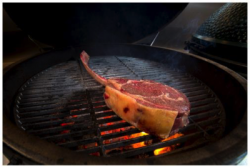 This Friday  Orange Elephant steak restaurant opens in Chelsea, London. Orange Elephant offers a fuss free menu (there is none!), but instead invites guests to come for one thing and one thing only – 12oz sirloin steak served with a special house sauce, a side salad and portion of hand cut chips for  £20. Those with a larger appetite can opt for the impressive Tomahawk steak or go for bubbling truffle Mac & Cheese, all paired with signature cocktails, and an extensive wine list. 
Named after the breed of South Devonshire cow from which the steaks are sourced, Orange Elephants are the largest of the native British cattle, with their nickname deriving from their wide faces, big ears and rust coloured coats. Orange Elephant's signature steak is sourced from independent British farms and created from selected cuts of beef aged for a minimum of 32 days.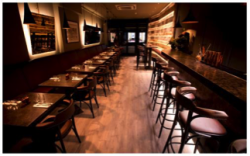 Orange Elephant is the brainchild of Head Chef Jai Parkinson, wohas worked  with some of the world's leading chefs over his 18-year career, including Michelin-starred David Burke (who opened La Pont de la Tour amongst others)  and Julien Maisonneuve (who headed up Tom Aitkens restaurant).
Jai and his team will be using the innovative Big Green Egg barbeques to cook their steaks .The Green Eggs have a clever ceramic design which uses charcoal fuel and is capable of generating an intense controlled heat, essential to properly searing the meat, while roasting and smoking at the same time.  Steaks are cooked with cross hatch marks, crisp charred edges and the all-important juicy flavour.
'The Beach', 351 Fulham Road, London SW10 9TW