Lara heads south of the border to explore Mexican cooking at home with Mexgrocer.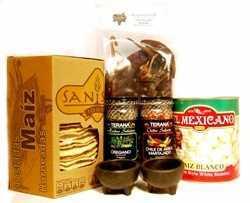 It's not often that you come away from an online shopping experience richer and more informed, and yet after browsing the virtual shelves of Mexgrocer.co.uk that's exactly what happened to me.
While I consider myself a fairly competent and curious cook, I'll admit that my experience with Mexican cuisine has been more TexMex tacos and tortillas than an authentic exploration of the food of this glorious country. I'm not proud of this fact and I can't believe it's taken me this long to get past perfecting my guacamole.
Just looking at the chili selection, on the website that was started in 2006, tells you that there is more to Mexican food than corn chips and chimichangas. But it goes so much deeper than chillies alone and if you take the time to explore the ingredients at Mexgrocer.co.uk you'll realise that there is a whole world of flavour and texture ripe for exploration.
I tried the pozole kit. Pozole is a traditional Mexican stew that's made with  chicken or pork, chillies and hominy. The kit included dried Guajillo chillies, a can of hominy, a packet of tostadas and some oregano and chilli flakes. I'll bet you don't know what most of those ingredients even are, but after making the pozole according to the traditional recipe – you won't understand how you've lived without these ingredients for so long.
The sweetness of the hominy – which for the unenlightened is dried mature corn grains soaked in diluted lye solution – is out of this world. I'd never tasted anything like it both in terms of flavour and texture and while at first I wasn't sure if I liked it – by the end of my bowl of pozole I was a convert. The basis of the dish is a paste made by rehydrating the Guajillo dried chillies and while it took some time to prepare, I was so blown away by the result that I'm already trying to think of more ways to use this devilish concoction.
The tostadas tasted like no other corn-based snack I've eaten – it actually tasted like corn and when eaten along side the pozole with the traditional accompaniments of lime, crisp lettuce and home-made salsa this meal was by far the most exciting thing I've eaten in years. And that's just the tip of the tostada – there is so much more I need to try, like mole poblano sauce, nopales, tamales and then there's all those chillies just waiting to be discovered.
If you're anything like most Brits, your corner shop is not likely to stock or even know what any of these things are. And if you're ready for a new challenge in your kitchen – then head over to the Mexgrocer.co.uk where culinary adventure awaits.