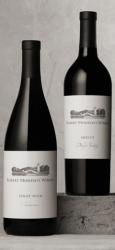 Robert Mondavi began harvesting in 1966 at a time when wine growing in America was in many ways in its infancy, at least as far as acceptance by wine buffs was concerned. Vineyards had been planted as far back as 1836 with the first commercial winery established in 1861. Disease and then prohibition in 1919 killed off wine making, except for those vineyards making communion wine for churches, until 1933.
It wasn't until the 1970s that awards began to come to the Napa Valley vineyards as they followed 'Father of Californian Winemaking',Mondavi's lead toward excellence. Today the region produces some of the finest Cabernet Sauvignons, Chardonnays, Merlots and Sauvignon Blancs in the world.
It's hard to fault Mondavi's Pinot Noir, it has all the boxes ticked – a deep, deep colour, massive dark fruit aroma that also comes out in the mouth and a rich feel that clings to the tongue. Given how hard Pinot Noir grapes are to grow, it's remarkable that a wine like this can still be sold at such a reasonable price.
It's a wine you can comfortably take to a friend's house for a posh dinner but it's a wine that can equally well work with a backyard barbecue and burgers. It has that American way of easily fitting in and even more easily slipping down. This you could certainly choose over same priced Aussie wines; it has an underlying complexity they often lack, which means that it really does enjoy being with food.
The words 'private selection' are sometimes a warning sign – if it's so private why is it being sold? Mondavi's 2009 Chardonnay is an exception though. The grapes are grown on the coast, so benefitting from cooling breezes that allow the grapes to stay longer on the vine and intensifying the flavours. Add to this extended aging on the yeast lees, and you have a wine that escapes the ABC cliché (Anything But Chardonnay).
A blend of 96% Chardonnay, 2% Gewürztraminer, 2% White Riesling this is a rich golden wine that hits you with pineapple first of all, then some oak and then a creaminess. Another wine that drinks above its weight and price and pairs up well with roasted pork or grilled chicken,
There's no doubt that Mondavi can give the other new worlders a run for their money, and for your money you could do a great deal worse.