A bit like those warm and sunny October days in Britain, fine dining and top chefs at a Morrisons' event seemed a little, well, unusual. And if that wasn't enough, their pop-up dining event for the London Restaurant Festival popped up in the very chic Swarovski Crystallised Lounge in Oxford Circus.
As the Champagne was poured, I was welcomed by an assortment of Italian, Indian, British and French classics that made choosing difficult. The menu featured British produce, such as Quickes cheddar and Dumfries House beef making it clear that quality was high on the agenda.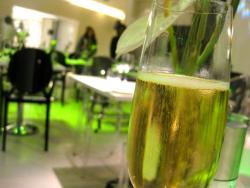 After seeing that Pierre Koffmann, Atul Kochhar, Aldo Zilli, Bryn Williams and Nigel Haworth were responsible for the menu at Morrisons' exclusive pop-up, a wave of understanding came over me.
Like the high-low fashion movement that proves looking good doesn't have to mean going broke, Morrisons want to show the consumer that value for money doesn't have to mean cheap and nasty. On the contrary in fact, they want to share their philosophy that producing great food that is also value for money, is actually achievable.
After snacking on plump, tasty olives and some pretty amazing Italian-style bread, I'd decided to put Morrisons to the test. I took a chance and ordered the Dumfries House beef carpaccio and my partner chose the seared scallops with sweet peas and broad beans.
Morrisons' philosophy wasn't too far off; the starters were great, excellent in fact. My beef was tender and seasoned to perfection. I had my doubts about the fine curls of Quicke's cheddar, not exactly Italian, but it worked. The scallops were cooked nicely and the sweet peas and broad beans were a delightfully sweet and juicy.
Our mains of sirloin accompanied by a dollop of mustard and creamy mash, and my partner's chicken korma served on rice with roasted flakes of coconut, were excellent. The korma was rich and flavoursome and our sides of sweet potato au-gratin and broad beans were fresh and light.
Dessert was lemon tart with raspberries and coulis and a chocolate mousse served on a bed of chocolate'dirt' with a sprinkling of pop rocks. Every course came with a wine presented by the sommelier who floated around with bottles of smooth and mellow South Australian shiraz and crisp, fruity sauvignon blancs from New Zealand, not to mention some lovely French and Italian wines.
A lovely meal, in a stylish space, Morrisons had certainly proved their point, good things don't have to cost a lot. A meal that I would have expected to pay over £20 for ended up being an exclusive preview to Morrisons' new M Kitchen Range of ready-meals.
Everything from the outstanding carpaccio to the delicatessen-quality olives and the full flavoured korma can be bought as part of the new range available at Morrisons.
With over 75% of consumers eating ready-made meals, Morrisons' rebranded M Kitchen range includes French, British, Asian and Italian classics such as microwave Lancashire Hot Pot, Spicy Szechuan Chicken stir-fry, pan-fried Pork Saltimboca and even a selection of international sharing meals including ribs, onion rings and traditional tapas products.
With meals-for-one, two and larger groups, Eat-Out-At-Home bags of'Takeaway', oven-cooked'Special Night In' and even a premium'Bistro' range, you can buy high quality, restaurant standard ready-made meals.
So even if you're budget doesn't support a champagne lifestyle, you can at least eat like a millionaire and make a night-out of your next night-in with Morrisons M Kitchen range.