Outside the taxi window, the sky was a bruised, inky purple; it was still stubbornly too early for the sun to rise and, instead of being tucked up in bed at what I suppose you could call the pre-crack of dawn, I somehow found myself walking bleary-eyed into Billingsgate Fish market. Straight, in fact, into a wall of sound and smell, sliding on the slick floor coated in a sheen of fish guts, salty water and pushing through the crowds of overall-clad workers, into Piggy's Cafe where, unlike outside, where it smelt of an old seashore, in here there was the sharp smell of competition.
But I shouldn't complain too much, really, when you consider that I signed myself up for this trial by fishy fire voluntarily. A week or so ago, a shiny bottle of Muscadet arrived at my front door, along with a challenge from wine expert Douglas Blyde: create a dish to match this unique wine and come and cook it on the spot. We'll pick you up at 5am. Winner takes all (well, all the wine anyway). How could I refuse?
So there I was, wedged into an overcrowded table, eyeing up the other chefs and wolfing down a fat scallop sandwich alongside Foodepedia's Tom, who I'd only just met. Because what better time is to meet your co-partner in cooking to the death than on the morning of the battle royale?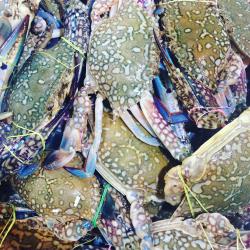 Luckily, Tom was all for the brilliant strategy of'winging it', which, after we'd risked a look around and clocked a host of well-known, formidable faces clutching written out recipes and discussing their tried and tasted dishes, felt slightly less brilliant.
Basically we were flying by the seat of our pants…and our combined tastebuds alone, frantically trying to remember what the wine tasted like, which fish we knew how to cook and holding onto the belief that inspiration was going to strike soon for dear life.
Despite my work revolving around wine, I'd had limited exposure to Muscadet. I vaguely recall one of my father's friends sitting at our kitchen table – pompously insisting that French wine was the only wine worth drinking – gripping the slender neck of a bottle of Muscadet and throttling the cork out before taking an exaggerated sip and swilling it, the flushed skin on his cheeks bulging before he declared it a winner with a smack of his lips and a slam of the bottle on the table.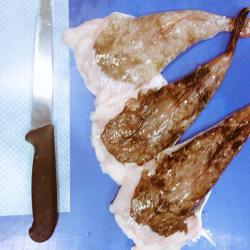 Needless to say trying it in my own home, some 15 years later was slightly different. I knocked an icy glassful back in haste after a late evening at work, only to be stopped in my tracks by the wine's unexpected fizz (earned from its Sur Lie aging process), its lemon-singed, smoky finish and its strange, mineral tang. It tasted like a mouthful of the seaside. It tasted distinctly of French holidays. It tasted nothing like I expected.
Back in the fish market, Tom and I settled on monkfish. Mainly because we both liked to eat it and because it looked beautifully fresh, its tawny skin mottled and shining under the strip lighting. It was only when we carried on wandering and saw the variety of fish that the other competitors were picking up, that we started to worry.
We must have looped that market 12 times, eyeing up the exotic fish and the live crabs, grabbing a fat bag of glistening mussels and a pot of spiky fresh samphire along the way in our state of restless paranoia. Well, maybe just mine, Tom was as cool as a cucumber.
Post prep session in Billingsgate's fish school kitchen with CEO and food writer CJ Jackson, where Tom was demoted to mussel scraper after mullering one of our pearly, plump fillets of fish, the real competition started. Pans were snatched, a limited larder was ransacked and then all there was a 50-minute time frame and two terrifyingly empty plates to fill.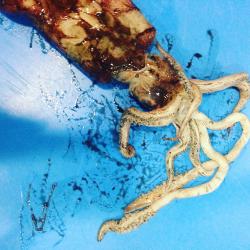 We'd grabbed lemons for the citrus edge, copious amounts of butter, paprika and chorizo to bring out the smoky finish and I'd managed to triumphantly swipe the last leek in an attempt to recreate the Muscadet's minerality.
Suffice to say, if any fibre of my being had ever quite fancied giving masterchef a go, it certainly doesn't now. When you've nearly had a full-on meltdown about the lack of a griddle pan, you know you're not cut out for competitions.
While I was busy trying to match the exact level of lemon sharpness with butter richness in Muscadet and fashioning a makeshift griddle from strips of tin foil, occasional barking orders at Tom like some sort of deranged drill sargeant, half-drunk on sleeplessness and sheer terror, he was busy knocking up perfectly-cooked samphire and mussels…and accidentally switching off the fancy touch-top hob of our next-door opponents, which would have been hilarious, had I not joking told everyone earlier that morning that the only way we were going to win was sabotage.
Somehow, in between the colossal mess we'd managed to make two dishes of butter-soaked monkfish, steamed mussels in a lemon, paprika and fish broth, a lemon butter sauce and scattering of toasted chorizo crumbs and samphire.
The rest of the day was a blur of Douglas' florid, lyrical speech winding its way around the descriptions of each type of Muscadet while we downed our tasting glasses and sampled the ridiculous spread of speedily cooked delights from the other teams: fish stew rich and deep with saffron and slow-cooked stock; whole roasted fish spilling crab and spikes of lemongrass; delicate little punchy half shells of ceviche covered in mouth-pinchingly tart lime juice and fire-cracker hot linguine wrapped around salty circles of calamari.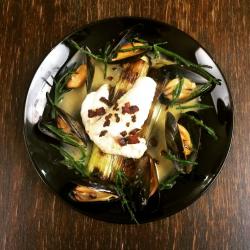 It was only when Douglas started talking about the winning dish managing to match the wine's mineral, smoky finish and asking people if they thought it tasted'leeky' that I snapped back to attention. Attention laced with bemusement, that was, when Tom and I were announced the winners. All that was left was to down another bottle of excellent muscadet in celebration and reflect on our utterly unexpected win. That and perhaps start thinking that maybe entering another competition wouldn't be that bad after all…
I'm still not sure how we won it for team Foodepedia, but luckily there's video evidence to support it!
{YOUTUBE:SlWS7kbsm-U}
Divine wines sampled:
Côtes de Grandlieu – Guérin 2014 from Luc and Jérome Choblet (Waitrose, £7.99)
La Nantaise Réserve 2014 (Laithwaites, £9.99)
Les Gras Moutons 2013 from Domaine de la Haute Févrie, Berry Bros & Rudd (£11.95)
Le Pallet 2010 – Les Dix du Pallet (£14.99)