First, for the benefit of anyone visiting Trinity in Clapham, the POLYGON – part of Trinity's confusing address – is an irregular shaped roundabout of buildings with upmarket estate agents and posh bric-a-brac on one side, the Rose and Crown pub straddling another and chef owner Adam Byatt's Trinity tucked around the corner opposite a derelict toilet block. I'd walked round and round the polygon like a teddy bear for aeons before I phoned them, distraught, rain-soaked.
I'm an alien to Clapham – a bit rugby for me – but I'd decided to venture across the river to try it as Trinity, opened in 2006, has a good rep. And once I was found, and ushered in by a friendly waiter, all was calm, contained and assured.
Byatt has reopened his South London restaurant with revamped interior, al-fresco piazza and new 2nd Floor restaurant -'Upstairs'. Downstairs oozes ease, its operations a well-oiled machine, much like its customers seem well-oiled, well-heeled and well-fed.
I'm not sure how it looked before but now the tables sport white napery around which sit curve-backed stone and heather-coloured chairs. It's simple, traditional, unfussy, a bit 1970s with its brown and cream palette. The kitchen has been opened up behind glass panes and integrated with the bar and there are loads of chefs bopping around on a Thursday night.
The new upstairs restaurant has more perk: pine and chrome and suited to more relaxed dining, they say. There's also an attractive wine room with charcuterie upstairs (Trinity produces its own charcuterie), cutesy hams and chorizo swinging among the Sancerres.
The food downstairs at Trinity is still generally British. They do their own very good sourdough bread which is a cross between a croissant and a crumpet. There is a gigantic winelist – too bewildering so I opted for a glass of grassy, choppy Delamotte Brut, Le Mesnil-sur-Oger Champagne instead. Also A was his usual 50 minutes late so I needed cheering. A plate of charcuterie – including lomo, coppa and salami – was lovely and dainty (and cheering), particular standouts being the duck ham which was sweet with almost luminescent fat.
A starter of Dorset snails, oxtail, froglegs and lovage did its best to disguise the viscerality of its offer: the snails looked like cherries, having been steeped first in red wine. And the frog legs were lollipopped and deep-fried in breadcrumbs – they tasted a little squiddish and were good, if you like that kind of thing. Snails aren't my bag either but I'm guessing they would be adored by snailophiles. The oxtail it sat in, however, was delicious in its umami set as it was in a half onion skin.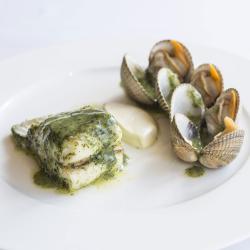 The warm salad of chestnuts, artichokes and truffle – while not very warm – was wonderful, a little dish of autumn leaves swirled in a truffle cream and dusted with truffle shavings. There were hidden among the raw and crisped artichoke flakes some golden, gooey chestnuts, and the whole thing was a great contrast of textures.
The mains were a little disappointing compared to the excellent starters although I couldn't fault them for technique. The Cornish plaice baked in seaweed butter, cockles and cauliflower worked really nicely together and was presented beautifully, the cockles touchingly arranged in order of size. It needed the punchy seaweed butter though to offset the very delicate taste of the fish, and this was one of those several dishes that Trinity does where the veg is a puree. I guess after the starters I wanted to be wowed.
Ditto with the loin of rose veal, artichokes and lemon thyme: well-cooked meal but A said it was a bit "bland". Puddingwise, a pumpkin soft serve (they make their own ice cream) looked like a pale orange Mr Whippy and was refreshing, could have done with a stronger pumpkin flavour perhaps. The Muscat raisins on the crème caramel were full of jiggery pokery and ratcheted up the intensity of the pud.
Still, it was a winning meal overall with friendly service. Revamp over, Trinity is still a good neighbourhood restaurant with regulars, many of whom kiss the delightfully efficient manager Leah on the cheek like a long lost friend. Or perhaps it was also the relief of finally emerging from the relentless polygonal cycle.