Writing a bad review of a restaurant is easy. You can practically hear the wicked cackle of most food writers when they happen upon a poorly cooked piece of meat or the unabashed glee when a waiter is rude to a reviewer or even the sigh of sheer relief when they find one tiny piece of something to complain about it, be it the decor, the portion size, the acoustics or even the font used for the menu.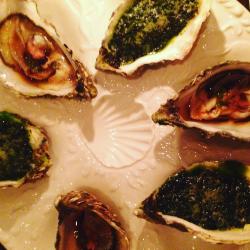 Writing a review where everything is practically flawless is much, much harder. How do you communicate your utter delight at every course without sounding like a sycophant or a simpering blogger begging their crust with unfailingly positive reviews?
This was exactly the problem I faced after visiting the recently opened branch of Wright Bros. in South Kensington. And no, I didn't love it because Robin Wright himself wandered over to say hello, talking me through the menu with a face that beamed with undisguised joy and pride; pointing out his favourite oysters and insisting I tried each and every main course on the menu. And why wouldn't he, when the Wright Brothers' wholesale farm now supplies 140 of the city's finest restaurants with a range of high quality, sustainable oysters, fish and seafood.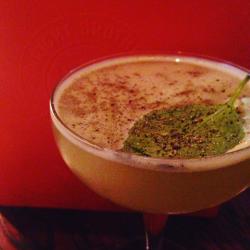 It wasn't because the waiter brought me one of the most delectable cocktails I've had in a while – a savoury blend of London Portobello Gin, Luxardo Maraschino, cucumber juice, lime syrup and a scattering of black pepper called an Aqua Marina that'll I keep recommending until I'm blue in the face.
It wasn't even the first plate of oysters that arrived, gleaming and plump on the half shell, tucked into a bed of ice set around a plum-coloured pot of shallot vinegar that glinted invitingly while the waiter pointed out batches that had been sent, freshly picked and packed from Lindisfarne on Holy Island, from Ireland's coast in Dungarvan and Royal Bay in the Channel Islands.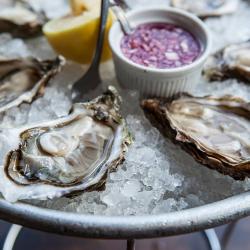 It was, probably, everything combined. From that first plate of salty, impossibly fat oysters to the second round, dressed in a smear of Rockefeller green and a wash of Japanese soy and ginger. And then onwards, though the ridiculously good value platter of fruit de mer (£19.95 for a small plate, and believe me, there's nothing small about it)heaving with snails, cockles, winkles, mussels, atlantic prawns and tiny sweet clams.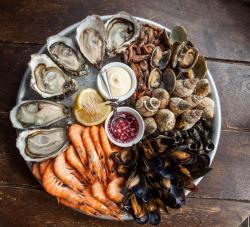 Then there was the feather-light whole sole served table side, stuffed with shards of soft crab meat, drenched in butter and capers and oozing lemon sharpness through its delicate flesh accompanied. I stopped there. Unusually for me I didn't want to venture into pudding territory, so stupidly happy was i about what had come before, I was irrationally worried that I might be disappointed if I carried on.
Wright Bros. South Ken isn't particularly flashy. It's small inside and quite dimly-lit. It isn't particularly reasonable either, it's bang average at around £30 for a dozen oysters and £20 for a main fish dish. However, after one visit, I wouldn't change a thing. It's a rare, full-marks winner and long may it stay so, grumbling critics be damned.