Goodness gracious me! Nina Wadia's kitchen skills are under intense scrutiny from Cyrus Todiwala.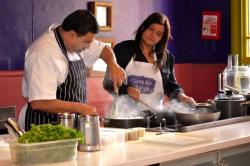 She's getting quite a drubbing over her onion chopping. Luckily, it's all in jest- the two friends make an engaging double act as they cook up a mini-feast showcasing Cafe Spice Namaste's menu in aid of charity Find Your Feet's Curry For Change campaign.
As a member of the diminutive Parsi community, who place high value on charitable work, supporting Curry For Change came naturally for Cyrus. And, as a Parsi, a dismissive attitude towards vegetables also comes naturally- the chef declares 'anything green is seen as a fungal infection on the plate'. Nina concurs, revealing she never consumed a raw vegetable until after she left India, aged nine.
So today, we're chowing down on paneer in a rich gravy, unusually based on milk and jazzed up with fried green raisins and cashews; shami kebabs featuring the goat meat Cyrus is so keen to champion, accompanied by a zesty herb chutney; and the fluffiest pilau ever. The rice is part-cooked on the hob before being transferred to an oven- a new approach to many of the Indian home cooks present, and one which yields most excellent results.
Find Your Feet are also yielding excellent results with Curry For Change. Together with a range of supporting venues, they're ploughing the proceeds from the cause into deprived rural communities in India and Africa. And, with London restaurant prices and demand for Indian tucker both skyrocketing, they're onto a winner. For the price of a light lunch, an Indian village gains the skills to eat for life; shell out a ton on a celebratory dinner and enable 125 women to become local entrepreneurs.
Cyrus has witnessed the kind of poverty the campaign addresses first-hand, and, as an ethically-minded restaurateur, understands that a small loss to him means enormous gain to those who need it most. It's a logical approach that more chefs could do with adopting, and is certainly currying favour with today's audience, as is the food.
Parsi cuisine is most heavily influenced by the Persian pantry- making use of sun-dried oranges and fennel in sauces, and adding numerous Iranian pulses to the famous dhansak. A huge fondness for eggs is demonstrated in Nina Wadia's family's love of akuri- spiced-up scrambled eggs, aka Parsi comfort food deluxe. The emphasis lies more in the flavours attributed by various spices than with pure chilli heat.
It seems Nina's feeling the heat, though; Cyrus has her slicing, stirring and even serving, heckling her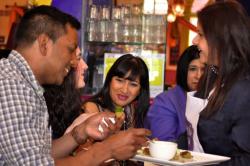 as she makes her way round the room with a fast-disappearing pile of kebabs. A self-declared amateur cook with a taste for good food, she's enthusiastic about the idea of hosting a home-cooked fundraising meal, using Curry For Change's free starter pack. Mr. Todiwala has also kindly furnished her, and us, with enough tips to dine out on for the forseeable future.
Although many would surely declare Cyrus a definitive authority on Indian cuisine, he's adamant that, should he live to see his 2,000th year, he would 'still know nothing about Indian food- I might have barely scratched the surface'. Heed the man- with such a vast world of flavour to discover, there's no time to waste. Go forth, eat curry, and make a change.
To find out more, visit the website at www.curryforchange.org.uk
Follow Find Your Feet on Twitter @findyourfeet, and Tweet about the campaign using #curryforchange
The Curry For Change menu is available at Cafe Spice Namaste (16 Prescot St, E1 8AZ) throughout June