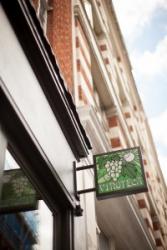 When you get to my age, you really dislike queuing. In Post Offices, in supermarkets and at immigration at Heathrow. Let me back in for Christ's sake, do I look like an illegal alien?
No reservations and queuing for tables is of course all the rage now, but it just enrages me. Who is paying whom here? So good news for this old gentleman is that the Vinoteca in Soho takes reservations in their upstairs dining room; all I have to do to be seated without fuss is roll up at the appointed hour. So I do.
Downstairs it's buzzing on a bleak summer's evening on Beak Street and, rather like Opera Tavern in Covent Garden, it's actually a better atmosphere downstairs than upstairs where it feels rather like I'm in the kitchen at parties. The old warehouse look – bare brick, metal framed windows and banquettes – is pleasant enough in a New Yawky kind of way and states clearly what's going on here; good value dining, nothing fancy, no scary waiters.
The selling point of Vinoteca in all its locations, and here in its latest opening, is of course wine. It's in the name after all. Food matched with interesting, often unusual wines, and plenty of choice by the glass. This is great if you know your wines, a bit daunting if you don't. Vinoteca solve this by suggesting a wine to go with each dish on the decently short menu. That worked for us so we went for it, although our desire for a small glass with starters and large one with main sent the sweet but slightly unfocused waitress into a flurry of incomprehension for some reason.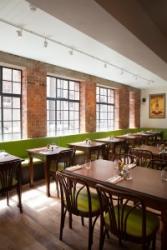 Menus change daily, but courgette flower with Ragstone and heritage tomato salad was first up and paired with a glass of 2011 Goats Do Roam White, Fairview from South Africa. I'm a big fan of Ragstone cheese; it's an English goat's cheese, which may make the wine pairing quite witty, and it's gentle without being too mild and self-effacing. Stuffed into a courgette flower, then fried, it's flavour becomes more pronounced but not aggressively so. Bathed in the sweet juices roasted out of the heritage tomatoes, it had sunshine even if the outside world didn't. The wine is an unusual blend, as it contains Crouchen Blanc grapes, but it isn't very complex and so suited the food.
P's grilled asparagus with crispy egg, prosciutto and parmesan was a bit of a surprise, the crispy coated soft egg looked for all the world like a Scotch Egg, that picnic favourite that had a moment of inflated fame a few months back. It was a good idea though as runny egg, 'ham' and asparagus is a combo that's hard to beat and the salty tang of the Parmesan only made things better. The 2010 Touraine Sauvignon, 'Domaine de la Croix Bouquie', Alpha Loire (France) was as fruity as Leslie Phillips on Viagra, a good choice P thought
I let wine lead me in choice for mains; I wanted red wine and so the Barbary duck breast, Madeira, morel and asparagus sauce was a no brainer choice. The duck, as seems to be the case so often these days, was a bit over done. I appreciate that restaurants fear customers' squeamishness, but it's easier to send things back for more cooking than it is to 'uncook' them, so why not try serving it correctly and see what happens? For all that it was still a good duck and, as the Barbary has less fat than other ducks, it was almost a healthy choice. The 2008 Vinho Regional Alentejano, Azamor (Portugal) had spice and good tannic grip, perfect for both the meat and the asparagus.
Confit leg of rabbit wrapped in morcilla, chorizo and butterbean stew for P was as hearty as could be, you could imagine eating it happily in a hut halfway up a Pyrenean mountain. Surprisingly the wine suggested was French, not Spanish, a 2010 Crozes Hermitage, Phillippe & Vincent Jaboulet but it's a great wine for anything, except perhaps drinking through a straw.
Desserts were unmemorable, I recall a rather dry elderflower drizzle cake, but then desserts don't excite me much anyway, I'd rather have cheese. Perhaps I should have, they seem to have a nice selection.
Vinoteca certainly know what they're doing and inhabit a middle ground that offers a viable alternative to full on dining or the safe option of burgers or ribs. Soho isn't short of restaurants, Beak Street alone lays claim to quite a few, but by keeping prices sensible, dishes interesting and offering the lure of a large wine choice, I can see the new Vinoteca keeping busy for quite a few years to come.