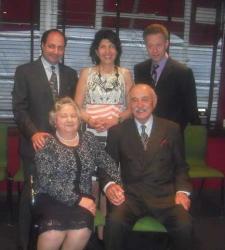 Look there's Francesco Mazzei, Giancarlo Caldesi and even, rather surreally, Ken Hom, what are they doing in a Spaghetti House of all places?
The answer is that this is a party for 'the' Spaghetti House, the original in Goodge Street and founded 55 years ago by Simone Lavarini and Lorenzo Fraquelli, immigrants from Italy who missed their food and were shocked by spaghetti in tins and on toast.
Since introducing London to al dente pasta, and a bolognese sauce that became legendary, the house's fortunes have waxed and waned a bit over the intervening years but in 2012 it's still under family control. Simone's three grown-up children run the business and have relaunched with a determination to go back to real Italian cooking and the original recipes that made them so famous and so popular.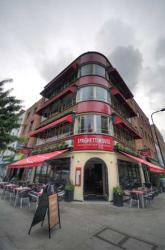 When Simone and Lorenzo first started Spaghetti House, they could only afford one floor of the building and customers would shout their orders to the chefs and ate on the stairs if there was no room in the restaurant. A situation some of the modern 'no reservation' restaurants would be over the moon to be dealing with.
People like Mazzei and the Caldesis have come to this relaunch party to pay respect to the still living patriach and Ken is here because as he says 'I like Italian food' and, he adds with a grin, 'the Chinese did give the Italians spaghetti after all.'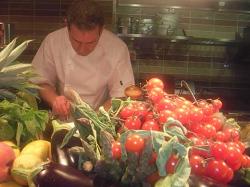 Food is being served in Italian profusion from an open kitchen and it's very good. Asparagus wrapped in Parma ham, eggs baked in pancetta slices, parmesan wafers topped with fresh chopped tomato, baked aubergine slices, fantastically fresh mozzarella plated with tangled piles of ham and drizzled with excellent oil.
A massive bowl of spaghetti is passed around for us all to fork a large plateful off, there are plates of heaped food everywhere. the noise levels are magnificently high and Simone Lavarini, who must now be in his 80s at least, has put on a pair of dark glasses so impossibly cool and stylish you know he bought them back in the 50s. If he,his lovely wife, his glasses and sharp suit were to all ride on out of here together on a Vespa you wouldn't be surprised.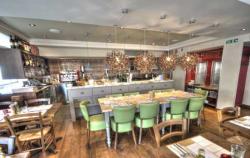 Other elderly Italians are greeting each other with great cries of joy; it's like an episode of the Sopranos, the one where they all meet up 30 years later. Many old boys are finding seats and with focussed attention working their way through giant plates of food temporarily ignoring all around them, including their wives. Giancarlo Caldesi makes an impromptu speech praising the family, is cheered to the echo, and then we all carry on stuffing ourselves. What a swell party this is.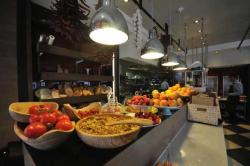 The ground floor room is still the heart of the restaurant, with floor to ceiling windows that open up to link to al fresco tables. The open kitchen offers counter and banquette seating, and the whole thing feels great
This venerable house now has 12 restaurants across London, employing over 300 people. Anyone who lamely sneers at them hasn't eaten there recently, or indeed ever. The food is great value, varied, packed with flavour and produced by people who really do care. Another 55 years of glorious Italian eating at Spaghetti House certainly can't be ruled out.