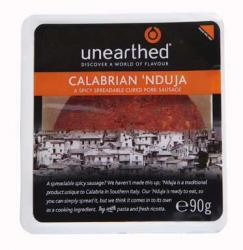 Nduja. It doesn't sound very Italian does it? More like a weapon used by a Kung Fu master, some kind of thing with blades sticking out that once thrown comes back like a boomerang lopping off people's heads.
It is Italian though, Calabrian to be precise. A few years ago foodies were having fits over it, exchanging rumours about where you could buy it and talking in breathless tones about how marvellous it was. Like so many fads it petered out eventually, partly because it remained difficult to find despite all the hype
Not anymore though as Unearthed have dug out stocks of Nduja and are selling it to the masses, well mostly Waitrose shoppers if we're honest. We took delivery of some too, even though we rarely stray outside Lidls warm Teutonic embrace and its wonderful multi-cultural experience.
You can simply spread it on bread as, despite its salami like outer case, the meat is smooth as pate. This is partly because it contains a lot of pig fat and after eating a packet of Nduja so will you. Nothing wrong with fat of course, not this kind anyway, fat is flavour and the nduja has plenty. Some of that flavour is masked though, Calabrians have a fondness for fire and Unearthed's nduja is a hot one.
We added it to a pan of gently fried cherry tomatoes, cooked till they just sagged and looked ready to burst, and mixed the result with some penne pasta. We also threw it into the last stages of a risotto. In both cases the nduja melted smoothly and fast so the flavour went all the way through the dish.
An interesting ingredient and one to play with now nduja has stopped being hyped by silly cults. It's now mainstream and well worth checking out.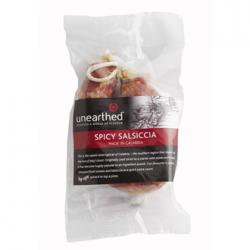 Unearthed also sent us some Chorizo de Leon from, you guessed it, near Leon in North West Spain. Described as lightly spiced Spanish cured pork sausage, seasoned with paprika and smoked over oak it was a subtle chorizo, a bit too subtle for those who expected the meaty madness of a normal chorizo.
That said, it was still a good chorizo to nibble on as its delicacy worked better with a glass of wine or sherry, while throwing it into dishes was unfair on its welterweight build. A nice chorizo to add to a plate of meats to be passed around at a weekend lunch or served as an evening starter, wooden board not obligatory.
Spicy Salsiccia, another Calabrian hot one, made another good antipasti alternately flung into the mouth with olives and, I am sad to say, Pringles. It's true, once you pop you can't stop and anyone who says otherwise is either lying or has no taste buds.
Another good'un to add to pasta with some softened garlic, onion, red pepper and if you're me, some dried chilli flakes because some like it hot.
Unearthed regularly come up with good things and these three are no exception. Definitely ones to have handy in the store cupboard.