Charlotte's Bistro 6 Turnham Green Terrace Chiswick . London . W4 1QP www.charlottes.co.uk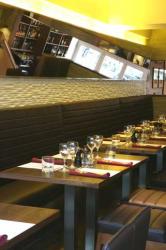 Charlotte's Bistro is a bijou nutmeg of a place, miniature, self-contained, brown and muskily flavoursome. The local, family-run restaurant in Chiswick is the sister to Charlotte's Place in Ealing which has been around for a quarter of a century and serves contemporary British food.
This one opened last year and its food is impressive. The front was open the Tuesday evening we went and glamorous post-work locals were sipping cocktails at the bar. How could we not join? D had a cool cucumber gin drink and I had a muddled cherry with meringue thingie, both tantalising aperitifs. Then it was up a few steps to the restaurant which sits beneath a vaulted glass roof in what was once the garden of a stand of Chiswick terraces.
The place prides itself on its local and seasonal principles – as do most restaurants – but Charlotte's is lucky enough to be on the doorstep of butcher Mackens which serves many top end London establishments.
Before Charlotte's, head chef Wesley Smalley worked as Jean Christophe Novelli's executive chef and his flair was really evident the night we visited.
Alex Wrethman, the owner and managing director, started at Charlotte's many years ago as an apprentice. The Ealing resident later bought the place and modernised it. He's very enthusiastic, chatting to the regulars, telling me how he doesn't want the place to be for moneyed stuck-ups but for locals passionate about food. Understandable, I guess, and the atmosphere emanating from the mainly local crowd was buzzy and charged, the predominantly female crowd intense in its chatter.
This is going to be a slightly embarrassing review to write as there's not much I can criticise. To start, D and I battled over who would have Innes goat's curd with watermelon gazpacho, avocado, dried tomato and wood sorrel. He had the last laugh size-wise when mine came because it resembled a little doomed village in the valley of my plate.
Tiny cubes of constituent food parts quivered and worried me in their insubstantiality before a swoosh of dammed water – the water melon gazpacho – was poured around it to make up the soup. All quite theatrical and actually, the dish was lovely. The intense tomatoes and buttery half-formed cheese slowly seeped their flavours into the soup. However, I draw the line at the four minuscule leaves of wood sorrel. I mean, what's the point? And they didn't seem to add any flavour.
D had an excellent cornish mackerel polonaise with piperade and red pepper essence, whose folded mackerel was sweet and pickled. Other starters we wanted to try but didn't were kromeski of middle white pork with sweetcorn, curry, coriander and lime and the pea veloute with lovage, onion milk cappuccino froth.
For mains, I had roasted hake, Moroccan spices, chorizo, green olives with salt baked potatoes. I loved this, everything balanced very well. I'd forgotten how tasty hake can be when cooked correctly, this was firm and swimming in a charming pink, porky oil offset by a paste of serious-minded olive.
The best were the salt baked potatoes – three little saggy bags of potato fluff in those jackets you only got at Guy Fawkes parties when you were a kid – the sorts of potatoes that you dug out from under the bonfire with crackly salted skins. D chose Cornish lamb's liver and bacon with summer bean salad, garlic puree and lime.
Now, D's a bit of a carnivore and didn't mind the giant slab of liver, I was more queasy. 'It's as big as your own liver," I said but he wasn't listening, just slicing away and chewing like a camel. He liked it anyway, I found it too heavy but in its defence, the choice of white summer beans to lighten it was good.
My chocolate fondant with salt caramel, tonka bean ice-cream and a sesame cracker was enjoyable, the ice cream being the star here, gritty and vanilla-esque. The chilled cherry soup with ewe's yoghurt ice cream and eucalyptus granite and honey oats was also a stunner, the sour yoghurt perfectly countering the cherry sweet.
We weren't quite sure about our wine, however. We had a 2010 Sauvignon Blanc from Moulin Montarels which, fortunately, was just on the OK site of citric but the wine list covers the basics and is well-priced. We could have continued with coffees etc but D was now quietly frothing from his overindulgence of liver so we slid away before the trains stopped. I'd love to have this as a local on my side of town, calls for Charlotte please.