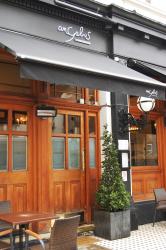 With all the current talk of sustainability in the food industry it will soon be hard to find any serious restaurants that aren't serious about the issue, and even harder to distinguish between one sustainable restaurant and another. The movement will, no doubt, move on to the next big thing and I can tell you it is already thriving in Bayswater.
Angelus doesn't brag about its sustainability credentials – but it should. In a foodie world where big-name chefs take over already-established dining rooms and spend hundreds of thousands of pounds on a refurb, the sustainability question needs to be questioned from a different angle. If kitchen equipment is out of date or inefficient, upgrading might be essential; much of it will find a new home and provide its own environmentally-responsible story. Front of house the story is more muddled. A new head chef or patron is likely to want to alter the character of his or her new gaff; changes might not be functionally necessary but reputationally essential.
The bar at Angelus – all polished wood and glistening glass – dates back to the early 19th century. It, like the building, is grade II listed. Ripping out and replacing was never an option. Part of the pleasure of turning this former pub, The Archery Tavern, into a restaurant was in its preservation. Sustainability here goes beyond the menu. Add huge art nouveau mirrors, glamorous chandeliers, oxblood red leather button-backed banquettes and some stylish neighbours and a traditional London boozer morphs effortlessly into authentic French brasserie.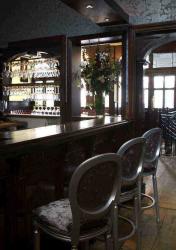 The small, atmospheric bar – look up to see the original stained glass panel depicting the archer that gave the pub its name – is more English than French. The spacious but cosy lounge is classic Parisien chic – mock shabby, boldly patterned, stylishly comfy. In both you'd expect to see couples sharing platters of sophisticated amuses bouches and sipping something fizzy while talking intimately. Which is precisely what we did see, the evening we went to try the latest additions to the Angelus menu: pichounettes and a new champagne.
The champagne, Angelium, a Blanc de Noirs made from Pinot Noir grape from the 2008 harvest, was crisp, light coloured and slightly lemony – perfect as we drift into autumn and perfectly matched with the day's pichounettes, both savoury and sweet. First the savoury.
Imagine a platter with a selection of tasting portions from the à la carte menu. That's pichounettes. It's exactly what London needed in the 1970s when wine bars were the newest new thing – and we've been seeking them ever since. Not wodges of stodge, not pistachios and olives, not dips with pitta bread; an elegant plateful to share, enough to satisfy hunger, soak up the fizz, sustain the chat.
Aubergine with broad beans was light and refreshing, pretty and colourful from the vivid green of the beans and baby dice of red, yellow and green tomato; it reminded me of an impressionist painting. Artichoke and Beaufort cheese terrine zinged with a dab of sharp, mustardy pickle. Pretty, lightly-breaded rings of baby squid gave crunch to a spicy crayfish cocktail. Adding basil and balsamic vinegar to Bayonne ham with Charentais melon lifted a classic combination well above the ordinary. A slight hit of curry added pep to the quenelle of crab on a sourdough crouton – another typically French treat. Pichounettes – as a concept, as a beautiful plate of food, and as a hunger-satisfier – works.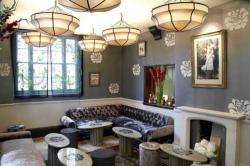 Next, the sweet pichounettes. Millefeuille was feathery-light, heady with vanilla from its soft, poached pear. A mousse of English Mara des Bois strawberries was unusually light, the result of making it with yoghurt, not cream, and adding enderflower jelly. Its accompanying strawberry sorbet was pungent and prettily pink. The dark chocolate and cherry tart was the least successful – but I'm unusual in my preference not to mix chocolate with fruit. The highlight of this exceptional platter was the luxuriously creamy gjnger crème brulée.
We were there for the pichounettes but were generously treated to main courses too. The griddled Gigha halibut (a sustainable Scottish Atlantic fish) with carrot and star anise purée, baby courgettes, spring onions, new potatoes, sunblush tomatoes and a lemon verbena velouté was the prettiest plate of food I've ever seen. 'Beautiful," said Janina. And delicious. Salt marsh lamb came glossily pink, tender and moist, perfectly matched with the earthy flavour of aubergine purée, soft coco beans (a pulse) and grilled red pepper.
London is a conglomeration of neighbourhoods, each with its own style and preferences. Angelus is undoubtedly a neighbourhood restaurant, reflecting the style of its neighbours. Popping out for a glass of champers and a light bite (or a full three courser) is de rigeur for locals who live amid the grand architecture of Hyde Park.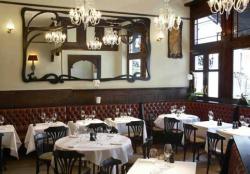 The night we were there, two businessmen spoke in fast-French, pausing only to nod in praise of the food. Two richly dressed and elegant South American couples caught up with each other; a bottle of deep red Bordeaux chosen from the high end of the wine list followed their fizz. Two younger well-dressed wives spoke of love and life while sipping from their flutes. The one group I'd expect to see in this atmospheric mixture of traditional Englishness and European warmth were Americans. They'd love it. And so did we, two Chiswickians looking for variety beyond our boundary but on the easy route of the wonderful 94 bus.
Angelus might not be in your residential neighbourhood but it ought to be on your 'we really must go there" list. At £13 a plate the pichounettes were excellent value for money, even if you aren't sharing. £23 brings you pichounettes and a glass of Angelium champagne. Even my controlling bank manager would think those prices were sustainable.