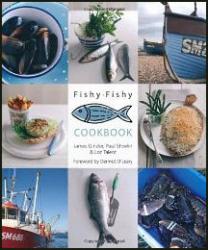 Not everyone knows that Mr O'Leary, in addition to being one of the original Big Brother hosts and lending his dulcet Colchester tones to various radio shows, is also co-owner of The Fishy Fishy restaurant in Brighton. It's not a celeb vanity project, I've eaten there and it's very good with Dermot's commitment to sustainability clearly genuine and showing up in a menu of fish and shellfish that's simple, seasonal and supportable.
Of course our Dermot is not a chef himself and so apart from contributing a foreword he is absent from the pages. What you get instead is over 90 recipes for fish and shellfish that are simple to deal with, clearly laid out, photographed with clarity and explained in layman's terms. His co-owners of the restaurant James Ginzler and Paul Shovlin do the cooking and it's a tempting seafood platter.
There are plenty of fish facts about fish themselves and how they are caught, which are educational and thought-provoking and some much-needed advice (at least by this reader) on how to prepare and cook fish. Many fishmongers have neither the time nor the inclination to prep your poisson for you so knowing how to take a fish to bits yourself is a vital skill to acquire
With chapters on Starters, Barbecue and Alfresco Eating, Everyday Fish and Shellfish, Special Occasions, Sauces, Side Dishes and Desserts it's a book that's easy to navigate even for landlubbers. A neat chart at the back gives you at a glance guidance as to what's in season and when.
The warm mackerel salad with rhubarb chutney looked a winner off the page while fishburgers could tempt a fussy fourteen-year-old. A quick crab, chilli and basil linguini can be thrown together after work while, Provencal-style mussels is always a winner at lunch.
Get a taste of what's on offer by downloading a free app from iTunes available here
{ISBN:1847738192}