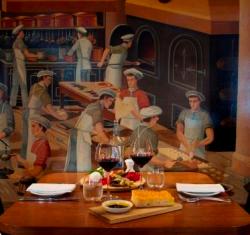 This winter, Cortina – Italy's most glamorous ski resort – comes to London as Italian restaurant, Cantina del Ponte, opens its Italian ski lodge and terrace on the banks of the River Thames.
'Cortina at Cantina' will see Cantina recreating Cortina's famous après-ski scene in miniature, complete with its own ski chalet where guests can huddle against the London winter under heaters and cosy blankets.
Cortina d'Ampezzo – the 'Queen of the Dolomites' – is considered to be the best ski resort in Italy. Long popular with the Italian upper classes, in 1956 it played host to the Winter Olympics and went on to become a playground for the rich and famous which it remains to this day. Audrey Hepburn, Brigitte Bardot and Ingrid Bergman were all regular visitors there in the 1960s, while more recently George Clooney has been sighted whizzing down the slopes.
To warm Cantina visitors up, the ski bar will be serving rich and creamy hot chocolate, warming cocktails made from traditional Italian liqueurs and some winter dishes including 'Bagna Cauda', a classic Piedmontese dish that features fresh seasonal vegetables dipped into a hot anchovy and garlic sauce placed in the centre of the table. Also on the menu will be Fonduta (melted cheese served in a ceramic pot), Fegatini di Pollo con Pane (chicken liver pâté with toasted bread), cured meats, olives, roasted chestnuts and Fonduta al Cioccolato (melted chocolate).
Cantina's bar team has also come up with a special selection of Italian winter cocktails such as Cantina's Caffe alla Valdostana (coffee, grappa, cinnamon and cloves served warm) and 'Cantina coffee' with Strega and Grappa are set to be the drinks of the winter season.
Cortina at Cantina will be open Monday 3rd October until Sunday 13th November.
Cantina Del Ponte, 36c Shad Thames, London, SE1,