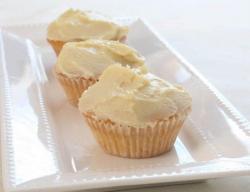 Makes approximately 12
Ingredients
150g slightly salted butter
150g Billington's Unrefined Golden Cater Sugar
2 medium eggs
2 tsp lemon extract
150ml soured cream
180g Allinson Nature Friendly White Self Raising Flour
40g ground almonds
Icing
80g softened butter
100g full fat cream cheese
120g Silver Spoon icing sugar
1 tsp Nielsen-Massey Vanilla Bean Paste
200g mascarpone cheese
Method:
Preheat the oven to 170/Gas mark 3.
Line a muffin tray with 12 paper cases. Cream together the butter and sugar until the mixture looks pale and creamy. Add the eggs one at a time then add the lemon extract. Mix in the sour cream followed by the flour and ground almonds. Once the ingredients are fully incorporated spoon the mixture into the cake cases. Bake in the oven for 20-25 minutes. The cakes are ready when you tap the top of one and it springs back. If the top stays dented in then give them another two to three minutes and try again. Alternatively insert a skewer into the centre of one, if it comes out clean then they are ready to be taken out. Place on a cooling rack and allow to cool.
To make the icing:
Beat the butter and cream cheese together. Add the icing sugar along with the Nielsen-Massey Vanilla Bean Paste and beat for another two to three minutes. Finally fold in the mascarpone and then use a palette knife to spread the icing over the cooled cupcakes.
For more recipes using Nielsen Massey, visit www.bakingmad.com