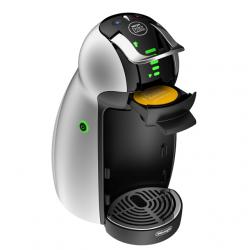 Two years ago we reviewed the Dolce Gusto Piccolo coffee machine and we rather liked it. It was compact, it used its own powdered milk system so didn't need a fridge nearby and it had all kinds of coffee style options. Perfect for a small office like ours.
Now comes the 2012 Nescafe Dolce Gusto Genio, looking a bit similar but with new features and refinements to add to the experience and the flavour. Just as before it's rather cute and stylish and takes up almost no room on a worktop; the base occupies a space less than a foot square, which is about 30cm if you insist on surrendering to the tyranny of Brussels.
Made by De Longhi; it's very well made. Design perfection and practicality ooze out of it. The loading system for the cartridges is very bloke friendly – you put in the cartridge, push the tray back in and at the very last second a magnet takes over to pull the tray the final few millimetres with a satisfying click.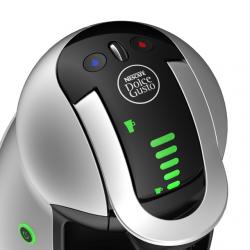 The lever that initiates puncturing the pod is also tactile, rather like closing a shotgun. From the coffee box (in our case Cappuccino) you take first the milk pod and set the new luminous green and sexy step setting to what's indicated on the box. The water takes hardly more than a minute to reach the right temperature and when the red light changes to green you press go. With a gurgle and a gasp the machine shoots the milk into the cup. Very satisfying.
Eject white pod, load coffee pod, change step setting and go again. Seconds later you have your cuppa cappuccino. The 15 bar high-pressure system delivering something very akin to what you'd pay £2 plus for in a high street chain.
Negatives? Well when you take the pods out they are hot and incontinently trail liquid out the bottom, so you have to move fast getting them to the bin. There are around 25 different coffee styles available, but we found local supermarkets only had one or two basic variants in stock, so ordering online in bulk may be the only choice where you live. Price wise you need to shop around too as the pods can be expensive. Some of us also found the milk overly sweet and preferred to add our own.
Positives? Very convenient, very stylish and once you've found the type of coffee (or chocolate) you like best, really quite tasty. From cold it delivers in minutes, the reservoir good for around four cups. It would be a great thing to have in the bedroom, fuss free Sunday morning coffee without going to the kitchen, which is probably why you often see these machines in hotel bedrooms.
Price wise, quite reasonable for the high quality build and performance. Around £120 at Homebase or £98 at Amazon.