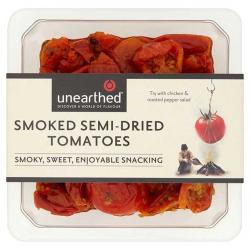 We're always happy to sample what Unearthed dig up and the start of 2015 has seen a whole bunch of tasty treats dropping on our doormat.
First up are Kalamata olives marinaded in Sipsmith Gin with orange. Now we like olives, we like gin and an orange is rarely unwelcome, unless it's someone eating one next to you on the train, so we were up for these. Unfortunately although the olives were good, if a little briny, we could not detect gin or orange notes so these got no points unfortunately.
Olives with Chipotle and Manchego was a lot livelier,  smoked jalapeno chilli with green stuffed olives and Spanish Manchego went down fast, ideal we reckoned with a cold beer, perhaps even a craft beer if you're feeling hipstery
Ive always found sundried tomatoes a bit overrated, and a bit too strong, but Unearthed had come up with cherry tomatoes smoked  over oak chippings to create new Smoked Semi-Dried Tomatoes. Very smoky, like being next to a bonfire. Nice as a nibble but I tossed them with penne pasta and some of the Sipsmith olives to make a tasty light lunch.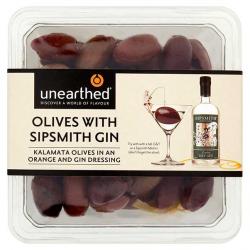 Olives with Chipotle and Manchego were a tasty blend of smoked jalapeno chilli with green stuffed olives and Spanish Manchego, the same cheese also found in Cooking Chorizo with Manchego Cheese.I cooked these in chunks in olive oil and added them to a stew of tomatoes and red peppers poured over small cubed, oven fried potatoes and served with a green salad. Excellent   
Citrus Nocellara Olives we piled onto ice cubes, this really adds extra snappy crispness to olives like these and we liked the citrus marinade, which contains Yuzu juice.
The Market Olive Mix isSicilian Nocellara olives, Greek Kalamatas and Manzanilla olives  dressed in lemon and wild garlic and made for a bit of variety in the cocktail nibble area 
And finally,  Italian Chargrilled Artichokes with Lemon, Mint and Chilli are recommended for adding to a salad but again I added to pasta along with some cooked morsels of chicken for a mid week 'supper' ( tea really but it's posher to say supper isn't it).
You can buy any two packs for £5 so they really are very keenly priced and a stockpile in the fridge means late getting home needn't mean eating something dull.
1 penny from every unearthed® pack sold goes to Action Against Hunger, a charity dedicated to ending world hunger.