They bill it the non elitist'champagne for every day' and why not? Most of us usually keep champers for celebrations so one that can be poured a bit more often is welcome. And on New Year's Eve, an affordable bottle of bubbly is as welcome as a man bearing coal at midnight
Nicolas Feuillate is the biggest selling champagne in France by most charts and the founder, who died a few months back aged 88 having made his original fortune in coffee, was something of a legend on the social circuit
His first vintage of 650,000 bottles back in 1980 sold out so quickly he made a deal with 4,000 growers to make lots more and then later increased that to 5,000 growers from 83 co-operatives making him a big force in the Champagne region.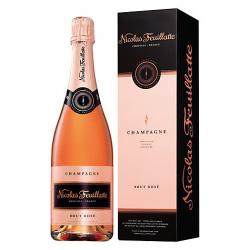 Today the brand is made up of a Brut Premier Cru, Brut Blanc de Blancs, Brut Rosé, Cuvée Speciale and even a Brut Kosher Mevushal made especially for the Jewish market. The brand overall ranks close behind Moët & Chandon and Veuve Cliquot sales worldwide. So what's on offer?
Nicolas Feuillatte Brut Non Vintage Champagne comes in at around £14.99 and is matured for 24 months not the usual 15 and has a palate of flowers, fruit and citrus and a crisp finish. A new contender is One Fo(u)r which has a rose variant for just £12 and comes with a fancy jacket with a wrist strap. A little less Essex is Nicolas Feuillatte Palmes D'or Brut Vintage Champagne In a black star gift box, it has a blend of ginger, red fruits and honey but it does cost around £85.
Nicolas Feuillatte Grand Cru Blanc De Noir Vina at £36 has toasty dried fruit champagne has a touch of almond and hazelnuts.
So if you fancy some economy sparkle, or something a bit special, check out what's on offer.
Buy at