£1 fish, £1 fish. Nope, you're not on a fish stall in east London's Queen's market, in fact, quite the opposite. Today is the 200th anniversary of the Norwegian Constitution and, to celebrate Norway day, Britain's biggest seafood trading partner celebrated with a seafood feast in the candy-pink, high-ceilinged salons of The Ritz Hotel and shipped over 16 tonnes of cod so that 99 fryers across the UK can serve 99p fish and chips.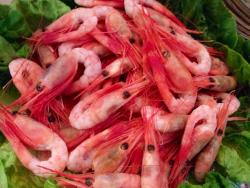 The great and good from The Norwegian Seafood Council, trade and industry ministries, Innovation Norway and even celebrated British seafood chef, Mitch Tonks, turned up in the pristine, heritage surrounds of the Ritz's inner sanctum to talk about, promote and gorge on the frozen-at-sea fresh produce that Norway specialises in.
All of this is unsurprising really when you consider that 270 million plates of fish and chips are sold in the UK and 7350 tonnes of cod are shipped from Norway's icy fjords and coastline into UK shops, restaurants and takeaways every year.
Fish is big business in both the UK and Norway and, as fish-lovers are consistently battered with information on sustainability and exactly what they should and shouldn't be eating, the question of food provenance and accountability has become a hot button issue
Even travel companies and tourism boards are getting involved as we were told by Danny Giles from Hurtigruten, who run a surprisingly food conscious cruise called Norway's coastal kitchen – where 85% of the food served on board is produced locally and is picked up daily as they wind their way through the fjords, meaning that the Arctic Char that's been caught at 4am will appear on dinner plates at 5pm that evening.
One chef who needs no convincing of Norway's fresh fish credentials is Mitch Tonks, who has a couple of celebrated seafood restaurants and fish and chip eateries down in Dartmouth, one of which is taking part in today's 99p fish meal offer. He celebrated syttende mai (that's Norway day to you and me) last year with Foodepedia by offering up his very own norwegian fish recipes which you can still whip up here, if you fancy joining the party today.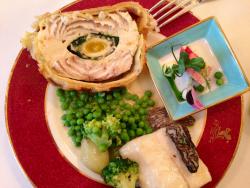 Tonks fell in love with Norway's fishing and production techniques years ago saying that he always nods to the Scandinavian way of life for fish dishes, particularly when it comes to their penchant for pickles: "Pickled fennel or pickled red onions really lift a dish," he explained. "Norway has integrity when it comes to sustainable fish. In Norway, sustainability wasn't just a buzz word, it was a way of life."
And if we needed any more convincing of the quality and'Arctic freshness' of Norwegian produce, all we had to do was look at the spread that The Ritz's executive chef, John Williams, had laid out below decks. In a tiny side room Scandinavian food had collided head on with British heritage and the result was a selection of hot and cold seafood delights that gave me a severe case of buffet blindness as I wandered around levering slivers of hand carved smoked salmon and wedges of crumbling Norwegian cured fjord trout onto my rapidly overloaded plate.
I felt a bit like The Little Mermaid, reeling off a roll call of fishy whosits and whatsits galore: there were bowls overflowing with ruby-red prawns, lumps of king crab leg dressed with dots of wasabi and edible flowers, cushions of scallop tartare and silver cloche-covered dishes of Atlantic halibut drenched in a cream sauce and spiked with asparagus morels. And that was before the livery-clad waiters started ferrying out cones containing golden pillows of battered cod and chips.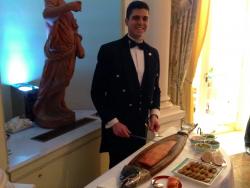 There's only one real way of determining how good and how fresh Norway's fish really is and that's heading to one of the fish and chip shops near you to try some for today's temporary price of 99p. Find out which restaurants are running the deal on the Norwegian Seafood Councils website, here, and get tasting, buying, cooking and eating this guilt-free, sustainable produce now.