For your information, ABC in Nosh Detox ABC stands for Alkalise, Balance and Cleanse your body. Although I hardly drank a drop over the festive season (what's that?), I thought a little detox at the end of last month might revive the flagging body and spirit.
It was greedy of me, I know, but I assumed Nosh Detox meant a detox WITH nosh so I was a little crestfallen to open my bag to see a medley of liquids. However, I lost five and a half pounds in four days and learnt stuff about myself very valuable (see later).
Nosh Detox seems to be doing a roaring trade at the moment. They deliver handmade juices – and some food – each night for the following diet day. Here is a hashed up diary of the four days of detox:
DAY ONE
Last night, I got five 'meals" including a large 'breakfast" smoothie which tasted of banana although not too sweet, with fibrous millet-like specks.
I'm savouring the midmorning juice – tasting of sugared algae – desperately trying to make it last. I'm already looking forward to lunch – mint and pea soup and after the mid afternoon snack, I have the luxury of a bit of solid for dinner – two tiny pieces of herby polenta. I bet they'll taste mind-blowing even if they're really rubber tyres.
LATER: Lunch was a nice, savoury and fresh-tasting pea and mint soup but I was urgently scanning for peas and there were hardly any, it was quite watery. Already feeling desperate and slightly headachey although I trust these things have all the vitamins I need. WHERE'S THE BREAD ROLLS????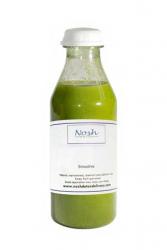 I'm not as hungry as I expected but my mind is obsessing over the next plastic bottle of slime. Nice slime, I guess, highly nutritious smoothies but the Nosh Detox I started three hours ago is already having psychological effects.
All I can think of is when I'm having the next smoothie. I know there will be no Scotch eggs, chilli crisps or copious cheese snacks for the next four days and I'm not sure I can handle it.
But not having to cook is freeing up miracles of time for other things and I stopped that constant foraging in cupboards for crisps that I am wont to do.
The shreds of pea and cabbage in lunch were enough to tantalise my tastebuds and taunt my gut into expecting a meal and what disappointment to get to the end of the bowl. It really does make you appreciate eating.
The polenta oblongs are very salty, they taste of vegetable stock but I'm ravenous and loving every grain of them along with the one chargrilled slice of aubergine and the three slivers of courgette.
DAY TWO
Headache is subsiding and cravings have dropped off and already I'm feeling better and more energised.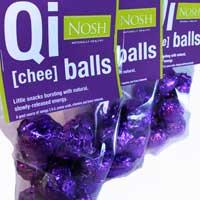 DAY THREE
Today's cream of leek and fennel soup is disappointly bland although the sweet and sour vegetables, chillied and honeyed, slightly made up for it. Hulled millet worked nicely too.
DAY FOUR
Last day today and I am jubilant – cinnamon and honey porridge for breakfast – at last, a solid! Then a solid lunch too of mixed leaves with cucumber, carrot, pepper and olives, lovely.
The afternoon snack has grown wings and hatched into chickpeas with cardamom and cinnamon and the Indian theme continues with a most welcome home made lentil curry with steamed brown rice, yes, the size of a microbe/DNA spiral but bloody gorgeous.
I don't feel alien. Almost back to normal today – I'm already fantasising about tomorrow's cheese, wine and meatfest – or am I? I've learned a lot. I can get over cravings relatively easily. I feel lighter and purer although weak on days two and three.
Now, where's that blender?