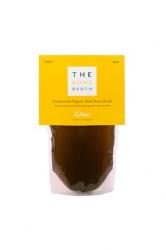 Danielle Woodward samples new Ossa Bone Broth and discovers a powerhouse of nutrients.
Despite having been a staple in cooking pots for centuries, bone broth has recently gained new momentum due to its superfood status deriving from its easily digestible protein composition.
The protein comes from the collagen found in the bones and connective tissue, which transforms into a nutrient-dense gelatine as it cooks. A cupful is said to ensure a hit of calcium, phosphorus, magnesium, sodium, potassium and minerals that are all known to help strengthen your immunity and heal your digestive system, while preventing insomnia, fatigue and anxiety. Quite a potent hit of goodness.
New company Ossa Bone Broth has a range of three broths: beef, chicken and fish, which can be drunk on their own as a hot beverage (said to be taking over the flat white in the mornings in Manhattan for its nutrient hit), added to smoothies or used as a base for soups and meals.
The company obviously care about the process and they know their customers will too; the beef broth is made from "the highest quality pasture-reared beef bones from animals grass-fed to organic standards with filtered water and organic vegetables" – definitely one for the'wellness' brigade. The list of ingredients for the beef flavour is beef bones, onion, carrots and apple cider vinegar – and that's it.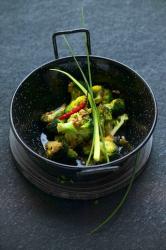 I decided to try one of Ossa's recipes, Brilliant Broccoli, which uses the broth as a base for the sauce. I went for the fish broth, as this recipe also includes fish sauce. After frying the broccoli in coconut oil (the'wellness' oil of choice), garlic and chilli are added, then the broth and fish sauce. Served with steamed rice, this was delicious and quick, and the broth gave it a depth of flavour that I don't think it would have had otherwise.
I then heated up some of the beef broth to have neat; as a savoury Bovril-style drink and as Ossa suggest, "the ultimate healthy coffee replacement". It was nice to know that the broth can help support my immune system, but I did have to force it down, as the taste wasn't great. Maybe a touch of salt would have made it more palatable. I then used the chicken broth as a base for my own butternut squash soup instead of stock, and it turned out well.
Ossa recommend the broths as a pre- and post-workout supplement and the co-founder, Catherine Farrant extols its benefits for pregnancy and healing post-delivery, crediting it for keeping her joints supple. It is even recommended for teething babies. There seems to be nothing that bone broth can't do…
The pouches retails at £5.25 for 500g and you can buy Ossa Bone Broth at Planet Organic stores and via www.planetorganic.com