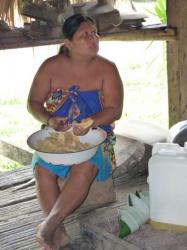 The canal yes, the hat, maybe, but the food? Panama is not well known for its cuisine, but as this Central American country grows in popularity visitors are finding its combination of flavours just as intriguing as the diversity of its landscape
Listed Number 1 in The New York Times '45 places to go in 2012′ Panama is a melting pot of ethnicities, and its cuisine is accordingly influenced by its diverse population.
Within Panama City, travellers will find something from every corner of the world, including French, Japanese, Italian, Thai, Middle Eastern, and Chinese food. In regional areas, traditional Panamanian cuisine is an overlapping mix of Afro-Caribbean, indigenous, and Spanish cooking influences incorporating a variety of tropical fruits, vegetables, and herbs. Most Panamanian restaurants are casual — diners, beachfront cafes, and roadside fondas (food stands) although in Panama City I found some lovely sophisticated places to eat like Las Clementinas in the old town, which served delicacies including Lengua a la Criolla (tongue Creole style) and palmitos con jamon (sprouts with ham)
Carnival carnivores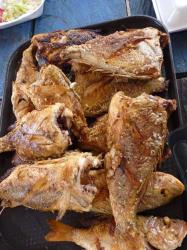 I was there for carnival. Like Rio in Brazil, and many other Latin American nations acrss the world, Panama parties like there's no tomorrow on the days surrounding Shrove Tuesday with dancing in the streets, parades of colourful floats and the corwning of beautfil leggy carnival queens dressed in sequins and feathers
Food is an integral part of the fun. Lining the streets of the city in the capitals area the balloon vendors stand cheek by jowl with fondas selling hearty fare to keep the crowds energised for the night's gyrating
Party food for sale is basic but filling – ranging from skewered pork to chorizo and yucca- fried yucca root accompanies many Panamanian meals, serving (and tasting) like tropical french fries
A woman walked by with a tray of toffee apples balanced on her head and children got a sugar rush from strings of sweets while the grown-ups enjoyed the local Atlas beer
After partying till dawn revellers require a hearty breakfast. The Full Panamanian is a heart-stopping plate which proved high on cholesterol. I stopped off at the roadside café La Hacienda on the road to Capira (and more carnival capers) with my bleary eyed fellow carnival animals. First order was for coffee, which in Panama is called Panamanian Joe, followed by the tortillas which were a bit of a surprise, not Mexican-style but deep-fried corn batter topped with eggs and cheese, something akin to huevos rancheros. Hojaldras, deep-fried bread sprinkled with powdered sugar like a Panamanian doughnut, seem to be another common breakfast staple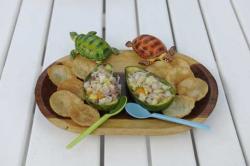 A typical Panama meal usually includes meat, coconut rice and beans accompanied by local fruits and vegetables like yucca, squash and plantains. As in neighbouring Costa Rica, this platter is often called a casado (a 'married"). The food of Panama's islands and expansive coasts is vibrant with fresh seafood and tropical embellishments, such as mango and coconut.
There is perhaps no dish more emblematic of Panama than the sancocho, a chicken stew made with a starchy root called ñamé and seasoned with a herb called culantro. Sancocho is said to put strength back into your body after a late night out, which is most nights during carnival time
Meat is also served as a bistec (steak), or in a popular dish called ropa vieja, meaning "old clothes" and consisting of shredded beef with a spicy tomato sauce served over rice. Chicken is a staple, too, as is pork.
Sneaking away from the rirotuous carnical antics in Capira, I found a tiny local restaurant just off the main street serving typical tasty arozzo con pollo (chicken and rice)with a cold beer for under $10. This is the affordable Caribbean – compare this to a similar lunch at even a simple establishement in Cuba's Havana or Puerto Rico's San Juan and the savings are staggering
Other Panamanian staples:
Empanadas: Savory corn or flour pastries filled with meat, potatoes and/or cheese.
Plantains: in Panama, plantains come three ways. Patacones are salty fried green plantains cut crosswise; maduros are mature fried plantains (slightly sweeter); and tajadas are baked plantains cut lengthwise and sprinkled with cinnamon.
Gallo Pinto : rice and beans, often mixed with pork
At local landmark restaurant Manolo's in Panama City, and again at the luxury retreat El Otro Lado , surrounded by nature, corvina was served in typical ceviche style
Ceviche can include chopped raw fish, shrimp, or conch mixed with onions, tomatoes and cilantro, and marinated in lime juice. Served with fresh tortilla chips, ceviche is popular in every coastal region.
Corvina is one of the most popular fish in Panama and turned up again at las clementinas, this time served as Corvina a la macho (macho style)