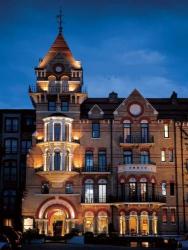 Christmas is fast approaching, and to celebrate the Petersham Hotel is launching their Christmas menu. Located in leafy Richmond, home of aging rockers and Richard Attenborough, The area is something of a culinary destination with the success of Skye Gyngell's Petersham Nursery, a Michellin star restaurant in a greenhouse. As an East London boy at heart, I was intrigued to see what the outer reaches of West London had to offer.
The hotel itself is perched on top of Richmond Hill with stunning views over Richmond meadow. At least I'm reliably informed that this is the case, as on my visit it was too dark to see. It is the only view to be protected by an Act of Parliament and has been immortalised in paintings by Turner, so it can't be that bad. I imagine lunch is the time to visit for the view. Arriving in the dark of winter the hotel was reminiscent of a more affluent version of the hotel in The Shining.
The evening commenced with a brief glimpse into their private dining room located in the cellar. In times gone by the cellar was rammed to the gills with wine, Whilst there is still some there, times have changed and people no longer want older Bordeaux, happier with their younger new world wines. We then went up into a Dining room proper. The décor was classic hotel décor, nothing too jazzy. Why is it you only seem to get carpet flooring in hotels?
The hotel is offering a set menu for the festive season, from which I plumped for the Seared mullet and squid with an avocado and fennel salad, filo pastry, citrus and seaweed dressing. The fish was fresh and well cooked although the squid suffered slightly from the rubberiness that it is so often a victim of.
Given the proximity of Richmond park, it felt fitting main was venison loin. I didn't think to ask if it was from the deer outside although I suspect not. This was accompanied with Sweet potato, mushroom duxelle. The mushroom was rich, intensely flavoured and the venison well cooked.
A suitably boozy Rum Baba to finish. This was the classic pudding rather than any deconstructed frippery. Other options on the menu include tandoori quail and a beetroot and goat's cheese open lasagne. Those of you with a more traditional bent need not worry as they also do turkey with all the trimmings and a Christmas pud with a grand mariner crème chantilly.
In an attempt to provide a little festive cheer, the Petersham is offering a guarantee of snow everyday in December. They demonstrated this on our visit. Given the sun streaming through my window on this November morning it's as close as we are likely to get this year.
The festival menu runs from the 1st to the 24th. Lunch is £35.00 (three courses) or £27.00 (two courses). Dinner is is £39.50 (three courses) or £31.50 (two courses).
The Petersham – Nightingale Lane, Richmond, Surrey, TW10 6UZ www.petershamhotel.co.uk