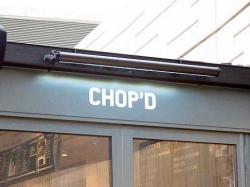 What's this? A load of metal shipping containers all piled up on top of each other and housing shops and restaurants? Only in Spitalfields darling
Shipping containers do make excellent semi-permanent structures. Once you lock up a shipping container it's well nigh impregnable, even the padlock is protected against low-lifes with sledgehammers. So a whole mall of them makes perfect sense.
The site of the new Boxpark 'pop up' shopping mall smells of freshly sawn wood and recently applied paint. But it's a good smel; ew, exciting and full of potential. And while these shops don't have any windows, they do have a positive recession-bucking outlook and are selling unusual, interesting things and offering some food outlets too.
Chop'd have installed themselves on the upper deck of Boxpark with a view of the crossroads. Up there they have seats inside, as well as some exterior tables too, where you can take in the bracing air of the area with its exotic aromas of diesel, Lynx and designer urban decay.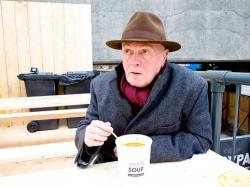 The food is Chop'd's usual menu: soups in two sizes, salads pre-mixed, or you can custom-build your own, and there are wraps, hot salads, mezes, stews and more. It's a bit daunting to be honest, what with a choice of 16 salad dressings too, but a Chop'd is really somewhere to make your regular lunch time pit stop, so you soon get to know your way around the menu and what you like best.
It was a cold day so we hit the soups. These are pre made in Styrofoam cups and kept in a chilled cabinet, you pick the one you want and staff add hot stock of whichever of three varieties you fancy.
Malaysian Chicken Satay soup (Chicken,peanut,sweet potato,Savoy Cabbage, Pea Shoots, Carrot, , Green Beans, Red Chilli,, Lemon Grass, Edamame Beans) was spicy, enough to make your nose run, but not overly fiery. A good range of flavour throughout but the edamame beans were a bit tough. We liked the cabbage though; it worked well shredded into the soup.
Gumbo Brown (Rice, Kimchee, Chorizo, Prawns, Roast Chicken, Tomato, Tarragon) had rather over chop'd ingredients so it became a bit of a sludge. The Thai broth wasn't as punchy as K had hoped for either even the kimchee failed to get to his taste buds. Personally whenever I see the words 'brown rice' I take them as a 'beware' sign and stay away, so I couldn't sympathise much.
We shared a 'warm salad' of Falafel, Hummus, Beetroot, Carrot, Mint, Parsley, Onion, Chickpeas, Sunflower Seeds, Sesame Seeds and Deli Leaves and apart from a lot of chickpeas, rather too many as they can be hard to digest and anyway are already the main constituent of hummus and falafel, it was large and virtuous. We should have put on a dressing, but with 16 to choose from, lost heart and did without.
Importantly, we were in and out in well under an hour and felt pretty virtuous and annoyingly healthy, sneering into the windows of burger bars on the way back.
Boxpark is a great idea, ideal for Xmas shopping with a difference, and Chop'd is just the food to be eating before we all descend into calorie hell over the festive season.
Directions
TUBE
Shoreditch High Street [1min]
Liverpool Street [10min]
Old Street [10min]
Right next to the new Shoreditch High Street tube station, and 10 mins walk to Liverpool Street and Old Street station.