Hugh Fearnley Whittingstall isn't the only one who's giving meat a miss this year. Over 3% of the UK population is vegetari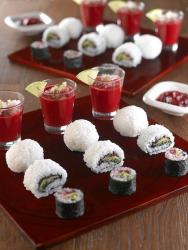 an with a further 5% regularly eating meat-free meals. Most of us know someone who choses to steer clear of meat and so at Christmas time, when it can be difficult to please everybody, The Vegetarian Society has bought out a range of recipes perfect for your vegetarian friends and family.
The Twelve Days of Christmas is a new festive recipe collection from the Vegetarian Society. The Twelve Days of Christmas collection has fourteen recipes and is guaranteed to be free from partridges, French hens and geese and there isn't a turkey to be seen. Instead, perk up your seasonal celebration with shots of 'Icy Limed Winter Welcome' and 'Seasonal Sushi' – great flavours and talking points to start your party.
For Christmas dinner impress your guests with mouth watering starters while the main course could be a 'Festive Layered Loaf' or a 'Roasted Celeriac, Bl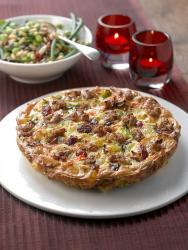 ue Cheese and Apple Stack – there's even moreish meals made from any leftovers. The sweet toothed will love the delicate 'Christmas baskets', 'Jewelled sponge puddings' and the very indulgent 'Snow angel cake.' Recipes are available online at www.vegsoc.org/christmas or by calling 0161 925 2000.
The recipes were created by the Vegetarian Society's Cordon Vert cookery school, Alex Connell Principal Tutor said, 'Christmas has many culinary traditions and flavours, some old some new, this recipe collection is full of rich, rounded flavours with a sprinkling of seasonal surprises too. I hope you will enjoy making these recipes as much as we did developing them."
The recipe collection is available free of charge from the Vegetarian Society, an educational charity.
Their website is well worth taking a look at for not only the new recipes but a look at the recipes from Christmases past at The vegetarian Society.
They also have some helpful tips and a survival guide for the meat and non-meat eaters around the Christmas table to prevent any misunderstandings.
General Food Tips for Christmas with Vegetarians
Roasty heaven – Roast potatoes should be cooked separately from the meat and in vegetable fat or oil.
Stuff your gravy – Vegetarian gravy granules and mixes are readily available in supermarkets. The majority of commercially available stuffing mixes are suitable for vegetarians and vegans.
Olives – An acquired taste, granted, but the stuffed varieties filled with garlic or sun dried tomatoes can be favourites. Check you haven't got anchovies in them though, veggies don't eat fish.
Crunchtastic – Crisps often use whey as a flavour carrier so ready salted are the only flavour that is always vegetarian. Check the ingredients.
Delicious Dips – Hummus is always a fab dip.
Fish Fury – Avoid Taramasalata though as it has fish roe in it.
Mince pie magic – Christmas puddings and mince pies are no longer a problem for vegetarians since many brands now use vegetable suet and this doesn't affect the taste, so meat-eaters will enjoy them too. Some brands will be suitable for vegans too – look out for The Vegan Society symbol on packs.