Maison Blanc has crafted some delectable treats for you and you're nearest and dearest this Christmas. They have put together a lovely selection of Christmas themed cupcakes that would make perfect gifts for your host, friends and family. And if you're feeling especially saucy, you could even indulge in one yourself. Topped with the

creamiest butter frosting, these Christmas treats make you feel merry just looking at them.
Xmas Pressie – Layers of vanilla sponge, buttercream and dulce de leche wrapped in a dark chocolate glaze.
Fir Tree -A festive treat made from delicious light vanilla sponge topped with a swirl of vanilla buttercream, complete with edible star.
Jacques the Snowman – This frosty delight is made from light vanilla sponge topped with tasty vanilla buttercream and decorated with candied fruit and marzipan.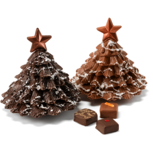 Cupcake Pudding -Perfect for those who don't like the traditional Christmas pudding; moist chocolate sponge filled with chocolate pieces, and topped with a flurry of vanilla buttercream and marzipan decoration.
Priced from £2.30, these little masterpieces will please any Christmas connoisseur.
With a whole range of Christmas treats in store from mince pies, chocolate roulade, a classic Christmas cake and some delightful stocking stuffers Maison Blanc is your local authority on all things French. Selling a selection of confitures, cooking oils and vinegars, you will find everything you need at one of their fourteen locations.