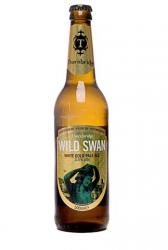 Sometimes I get home and instead of reaching automatically for the corkscrew, I cast around for something else to get into a glass. It's not that I've gone off wine, simply that I can't afford to drink the stuff at the level I'd like to drink it at (i.e. around £9.00 a bottle) every night. The recession hits everyone in different ways.
A beer though? In summer I keep some lagers in the fridge, purely for cooling down purposes as most lagers taste awful and are little more than water plus alcohol. I do like 'bitter' but the stuff they call bitter in pubs has been largely ruined and it will take more than the ubiquitous James May and his jolly blokeyness to convince me otherwise.
Beer in bottles though is a different matter. I like the idea of craft skills, dedication and talent being put into a bottle and Thornbridge Brewery from Bakewell, Derbyshire seem to have all the credentials and combine all that enthusiasm with state of the art brewing facilities. Faced with a bottle each of their Jaipur, White Swan and Kipling I got ready to go all the way.
First up, and in no particular order, was White Swan a Pale Ale of just 3.5%. This was fortunate as the next two would come in at 5.2% and 5.9%. Thirsty from the tube home, for me this was the ideal drink. Not fridge cold, but shed cold, this had a really fresh and zingy aroma and hints of citric, almost lime on the tongue. Plenty of hoppiness made it a real thirst quencher with a grown up taste. It was a miserable day outside but this beer made me think of summer and how good it would be to drink sitting by a river.
The Kipling (South Pacific Pale Ale) (5.9%) was a real golden beer, made apparently with the largely unseen Nelson Sauvin hop from New Zealand, which is notorious for its fruitiness, Kiwi fruits perhaps?. A sort of Lesley Philips of hops. Redolent of the same stone fruits you might find in a Chardonnay, it hit the refreshment spot full on. With a name like Kipling of course it has to be good with curries doesn't it? All I had were some spicy poppadoms in the house, but it was immediately obvious that the sweetness of the beer would indeed make it a perfect match for Asian foods.
And now, reeling a bit from the alcohol content and too many poppadoms, I wrenched the cap off the Jaipur. An India Pale Ale (5.2%), this was the big boy for sure. A massive award winner and not a million miles away in style from American Pale Ales, themselves the model for beers like Cobra and Mongoose, it had all the characteristics, including a heavy but not cloying sweetness and hops that kept drying the palate long after the beer had gone down the long way. Again surely brilliant with Indian food, but I found it just as good stretched out on the sofa watching the Friday One Show starring Captain Pugwash who was talking about food.
I thought these beers were just great, everything I look for in a bottled beer. They're on sale in Waitrose at around £2.00 each and I can't wait to properly match them with a meal.