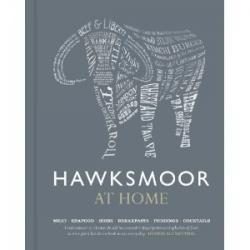 Hawksmoor at home is not just a cookery book. It's history book, instruction manual and love letter rolled into one. Released to coincide with the recent opening of their Guildhall site, it brings the magic of the restaurants closer to home. For Hawksmoor has become a genuine phenomenon. Fêted by critics and foodies alike, it is for many the ideal restaurant.
Yet as the book shows, this was not a certainty. With several moderately successful but not hugely profitable restaurants under their belt, Will Beckett and Huw Gott were not guaranteed success. The first Hawksmoor opened in Spitalfields on the site of an old Turkish grill. It turned out to have no planning permission for use as a restaurant, and then their bank loan collapsed. Their chef ran away so on opening day they had no food. Yet from this they have crafted a well oiled restaurant empire.
The book sets out its stall with the opening essay on steak. The recipes proper only start once you are fully equipped with a guide to good steak and knowledge of what sets the 'happy Hawksmoor heifer' apart from your standard bovine. All this is accompanied with photos of steak that verge on the erotic.
The book is a graphic designer's wet dream. It has high quality photography and feels like somebody has spilt a font collection all over it. It buzzes like the restaurants, with cartoons about hamburgers, pictures of puddings and caricatures of the French. It just feels right.
The recipes range from classics such as tripled cooked chips to the more esoteric grilled clams in bacon bone broth, all done in a style that is distinctively Hawksmoor. Whilst it fails to scale the heights of complexity of say The Fat Duck cookbook, some of the recipes are reasonably involved. A well as the turf, there is a section on surf, which includes lobster roll grilled smoked eel. Vegetarians get a token gesture, but this is not the book for them.
The main flaw with the book is the vagueness of the burger recipe. This is the burger that has spawned a thousand reviews, each more explicit than the last. It was perhaps too much to hope that there would be a concrete recipe. We learn that a 80:20 ratio of meat to fat is the aim, 10 of which is bone marrow. It features rare cuts such as rib flap cold and sticking. Maybe one day.
The book is also slightly self aggrandising, with slightly too many gushing quotes from critics throughout. The drinks section is also disappointingly short although their cocktail list is comprehensive enough to merit a book in its own right. There are over 15 though, so my complaint is motivated mainly by greed.
If you like Hawksmoor, you will like this book. It retains the heart of the restaurant, something which sometimes fails to survive the transition to printed page. It is one of my favourite book releases of this year. It provides a weighty riposte to any claims that the British can't cook. The food is British and proud. Chef Richard Turner should be proud of it.
All profits from the book go to Action Against Hunger, so buying this book is good not only for you, but those less fortunate than you. It's the perfect book for the carnivore in your life. The guide for the perfect steak ends with the instruction to 'crack open a bottle of good red wine. EAT DRINK AND BE MERRY. For me, that sums up Hawksmoor at home.