Want a picnic minus the soggy sausage rolls and curled up sarnies? Catherine Jones tucks into the latest veggie picnic food.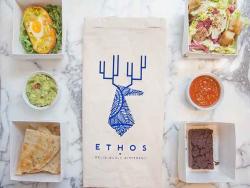 When the weather behaves itself, August is the perfect month for a picnic and thankfully we've come a long way since the original al fresco feasts. In the middle ages, picnics were outdoor hunting feasts where pastries, hams and baked meats were the dominant fare.
Back then, if you were a vegetarian, you would have been laughed out of the forest by your burly, carnivorous companions and then, as they tucked into the flesh of a newly-felled deer, you'd probably have starved to death. Now though, picnics come in every shape and sizes and Ethos has filled a gap in the market for vegetarian picnic food.
The self-service restaurant, a stone's throw from Oxford Circus, has been serving up international dishes, everything from Japanese roasted aubergine to Californian chickpea salad, for just under a year. It's now launched a range of vegetarian, gluten-free and vegan picnic hampers that can be ordered a day in advance.
I'm not vegetarian but I am a fan of healthy salads so I convinced my meat-obsessed boyfriend to ditch the sausage rolls in favour of one of Ethos' scotch egg hampers. The hamper, priced at £8 and meant for one but with portions hearty enough for two, includes a pitta bread and a dip, a summer crunch salad, an aloo saag scotch egg and a black bean chocolate brownie.
We had our leisurely repast on top of Hampstead Heath and the highlight was Ethos' pitta bread, which was thin, light, crispy and rich with flavour thanks to the generous spattering of oregano and olive oil.
We paired it with baba ganoush. Admittedly, it looked underwhelming – thin and grey with flecks of green – but it was a flavour explosion of smoky aubergine and rich olive oil that perfectly complemented the pitta.
When you're soaking up London's fantastic skyline from Parliament Hill, with everything from the Walkie Talkie and The Shard to St Paul's Cathedral on display, it takes a lot to distract you but Ethos' aloo scotch egg did the trick. 
It had got slightly squashed in transit but held together well. A soft boiled egg (none of that rubbery white and floury yellow yolk nonsense) was encased in a vibrant yellow curry peppered with chunks of carrot, potato, pea and broad bean and then covered in a paper-thin breadcrumb crust. The flavours weren't particularly complex – the taste of curry powder dominated – but the combination of the cold food with the heat of the curry was pleasant and it was an interesting take on a  conventional scotch egg.
Next, we polished off the summer crunch salad, comprising vibrant leaves of little gem and radicchio lettuce, dice-sized crunchy croutons and a zing of chilli dressing.
Our picnic was completed by a vegan, dairy-free black bean brownie. Ethos describes them as'blissful' which is stretching it a little, but if you don't have a sweet tooth they make a welcome change. They are rich rather than sweet, and denser than a conventional brownie. The creamed cocoa beans in the centre prevented it from being too dry or claggy.
Overall, we were really impressed with our Ethos picnic, particularly the pitta bread and dip. For vegetarians and vegans out there it's a must-visit. Oh, and there must have been something magical in the brownies because just after we'd polished them off, my boyfriend proposed! So if we decide on vegetarian wedding fare, I know where we'll be heading!
Ethos, 48 Eastcastle Street, London, W1W 8DX, www.ethosfoods.com,