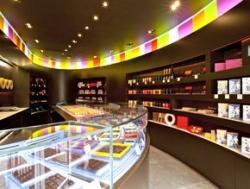 Now I don't want to brag, but I could possibly have the scoop on Pierre Herme's next flavour. I sidled up to the friendly-faced Frenchman at the end of the curved and narrow store in Belgravia, the only Pierre Herme boutique in London. I asked what his all time favourite sweetie was, and he replied as any good artist should, that all his creations are like his children. He couldn't possibly favour one.
Pierre Herme is a 4th generation pastry chef with a weakness for sweet things and the skill and imagination to make his wildest sugar-coated dreams come true. He is launching the release of his macaron bible called simply MACARONS. While it is not new in France, it has taken four years to translate this tome into English.
How serendipitious that I was at the Belgravia store for National Candy Day (4th November) sampling some of his finest creations. When discussing the finer points of blending white truffle into a macaron, Herme explained that you have to balance out these interesting flavour with other ingredients. For example his foie gras macaron, which is part of the Christmas Macaron Collection is made with chocolate and there is also a variety that he blends with rosehip and fig.
When I asked him where he gets his inspiration for his unusual flavours he answered that he draws ideas from everywhere. Anything from the rosehip jam his mother made when he was a child to a licorice and saffron risotto he ate at a restaurant recently. So there you have it people, it's a scoop, look out for this one next season. Herme mixes his collection up every season, developing flavours that resonate with nature and culture.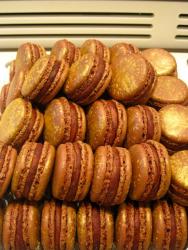 This season you can sample Truffle Blanche Noisette (white truffle, roasted piedmont, hazelnut slivers) Americano Pamplemousse (Orange, Campari, candied grapefruit) and Infiniment Cassis (blackcurrant & blackcurrant berries) and Huile D'olive and Mandarin (Olive oil with Mandarin orange) and Creme Brule.
The Americano and Creme Brule were my favourite with the zest of orange and a lingering aftermath of Campari bitterness. The white truffle macaron was a little too sophisticated for my ignorant palate. I just couldn't get into it. I don't know whether it confused my brain or it was just too rich for the 4pm afternoon slump. Perhaps better as an after dinner macaron.
The Classics;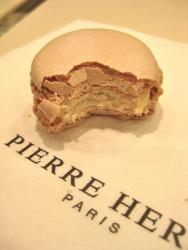 INFINIMENT ROSE – rose & rose petals
INFINIMENT CARAMEL – salted-butter caramel
INFINIMENT CAFÉ – coffee
PIETRA – hazelnut praline & crispy praline
MOGADOR – milk chocolate & passion fruit
INFINIMENT VANILLE – vanillas from Tahiti, Mexico and Madagascar
INFINIMENT CHOCOLAT PORCELANA – pure origin Venezuela Porcelana dark chocolate
I sampled a good deal of these, with my favourites probably being the Mogador and the Rose, apparently both best sellers. I was mesmerised with the colours and the light dusting of pearl on selected varieties.
You know how at a wine tasting you taste the wine and then spit it out? Prevents inebriation and illness, but of course you knew that. Well, a tasting at Pierre Herme is kind of like a wine tasting but without all the spitting and the alcohol. Rather than popping them in their diminutive entirety into our gobs, we nibbled on partials like little mice. We were wise in our timidity in the face of so many macarons. After only a few nibbles I was already feeling saccharine satiation. I didn't think it possible to have too many macarons but the luscious complexity of a Pierre Herme macaron is like a meal in itself with every bite.
I asked Pierre, what flavour he would create for London, if he were in the habit of capturing the essence of a city into a sweetie, which he isn't, he kindly informed me. He told me that he already did that last season with the mint and pea macaron. Kind of relieved I missed out on that one.
Read the Foodepedia review of Herme's MACARONS.
Pierre Herme, 13 Lowndes Street, London SW1X, 0207 245 03 17, www.pierreherme.com