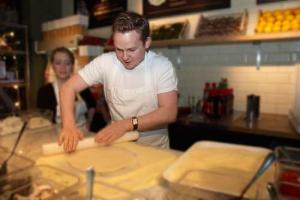 What can you get for fifteen pounds in London Town? Half a ticket to the back row of a West End show? One and a quarter cocktails in a chi-chi Soho bar? Well how about dinner, a drink, dessert and ready-made date banter? Thomas Henry throws up his pizza.
One-time sandwich experts Pontis have launched a new scheme where diners can come into their revamped restaurants to make their own pizzas. Call ahead Monday to Wednesday and you'll be able to sip a glass of prosecco (or beer if you prefer) while deciding what topping you're going to throw on your bespoke, bread-based delight.
To be honest I went in with slight trepidation fearing a pre-made base, some watery ingredients and a convection oven. Needless to say I was pleasantly surprised when greeted by a proper pizza oven and freshly made dough from which to sculpt my base.
Our instructor Silvestre was more than happy to walk us through the basic steps of artesinal pizza creation. The first step, once you've got your balance on the semolina-coated floor, is to prep your dough.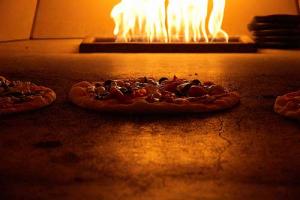 I'm sure most food lovers at one time or another have fancied themselves a Neapolitan pizza demon, flipping, spinning and spreading the dough faster than you can say anchovy. In reality what you soon discover is that you're a not quite so super cool. Anyway our good-natured tutor was on hand to iron out any problems with technique, so we did manage to end up with a respectable (and more importantly edible) pizza shaped crust.
Next came the toppings, and you could see everyone's face grow a tad more serious. This is your time to shine, where the creative wheat is cut from the chaff. I must confess to standing rather smugly next to my fully assembled pizza, adorned by nothing more than tomato sauce, mozzarella and sun-dried tomatoes. My smugness soon receded to food envy however when I looked over at the quattro stagioni being put together next to me. Even the girls I was with were indulging their carnivorous tastes with lashing of Parma ham and salami. A quick note here: the quality of the produce we were using was pretty darn good. Don't get me wrong Theo Randall doesn't have anything to worry about, but for the price I was impressed with the freshness and taste of the ingredients we were using.
Once the pizzas are in the oven there's just enough time to remove your apron and get sat down at your table to await the delivery of your hand made marvel. All in all, a fun evening combining cooking and creativity at a price everyone can afford. A sure fire credit crunch hit.
Ponti's Italian Kitchen, 10 John Prince's Street, London, W1G 0JW – 020 7629 1937 www.p-i-k.co.uk