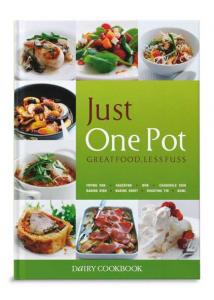 One pot meals? Hmm that's going to mean a load of old casseroles isn't it? Those sludgy brown meals that always have at least one carrot bobbing about like a torpedoed Noel Coward going down in the North Atlantic. Well actually, no. Just One Pot has pushed the definition.and come up with some handy recipes using all kind of pots and pans for people pushed for time and who hate washing up. Me and you, basically.
Sure enough there are plenty of recipes here for standard casseroles, such as Vegetable and Barley Casserole, Chicken with tarragon, Slow cooked Greek lamb and more. But before the book gets to these we are introduced to the concept of using a frying pan as a One Pot too, cooking tortillas, curried prawns with pitta, making paella (of course) and the all in one brunch amongst others.
Interestingly, the book doesn't just do savoury dishes and so in that same frying pan (wash it out first please) you can knock up a fruity baked custard or a banoffee baked pudding with custard too
Of course what is a saucepan but a casserole you don't put in the oven? So taking your saucepan firmly by its handle you can knock up all kinds of soups, pastas, stews, curries and even stuffed chicken with bacon. Twenty three recipes are in the pan section alone.
Too lazy to wok? Come on, it's easy; eleven recipes to have you stir-frying with gusto (you'll find that on the shelf next to Bisto). Aubergine and sweet potato stir-fry, Thai fish curry, Singapore noodles – there are plenty to choose from.
Yes a baking dish is one-pot too. Cannellonis, Pimento and brie bake are handy and filling and on a mere baking sheet you can make pizzas of course such as onion, mushroom and goats' cheese as well as baked stuffed peppers.
The list goes on, over 120 recipes in Just One Book, all with ingredients you can pick up at the local supermarket. All sections are balanced between sweet and savoury and feature full calorie counts per portion as well as saturated fats.
Easy to get to grips with and with plenty of choice, it's a book that fits into the workmanlike and reliable section of the bookshelf. One to use for feeding the family with the minimum of fuss.
Buy the book direct from www.dairydiary.co.uk