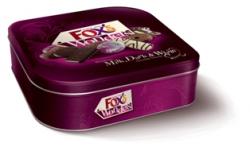 With the festive season upon us, it's that time of year when we treat ourselves to something a little bit indulgent. So, whether you're looking for a gift for a friend, or something a little special to share with the family around the Christmas tree, biscuit expert Fox's has an assortment tin to suit the occasion.
A great gift for chocolate lovers, Fox's Wonders is a lovely collection of Fox's most luxurious biscuits, all smothered in smooth milk, dark or white chocolate, and packaged in an attractive, contemporary purple tin. Indulgent, rich and made with good quality chocolate, this is a not a tin for the faint-hearted. From the milk chocolate shortcake ring to the delightful dark chocolate cream sundae, Fox's Wonders is one gift you might have difficulty parting with this Christmas.
Alternatively, if you're looking for a special tin of biscuit that will appeal to all the family, you can't go wrong with Fox's Fabulously Special Selection. Filled with an array of both chocolate, cream-filled and plain biscuits, the Fabulously Special Selection offers something for everyone, from the traditional jam sandwich cream to Fox's classic golden crunch cream and the chunky double chocolate chip cookie. A varied assortment of quality treats, this festive red tin is a firm favourite for sharing at family get-togethers.
So whether you're shopping for yourself or for others this festive season, why not be just a little indulgent and put a tin of Fox's biscuits in your supermarket trolley. We have tried them and they are excellent quality.
You can find these Fox's biscuit selections at most supermarkets. At an inexpensive £7.99 for a 400g tin of the Wonders range and £9.99 for an 800g tin of the Fabulously Special selection, if you are buying one as a gift for a loved one, you might also be inclined to treat yourself.
You can find out more about Fox's biscuits at www.foxs-biscuits.co.uk