Whether you're making a festive punch for guests, a Christmas Day morning Mimosa for the family or a Boxing Day Bloody Mary for yourself, the Portobello Road's gin gurus believe there's an opportunity to drink everyone's favourite juniper based spirit on any fine festive occasion.
Portobello Road Gin's Master Blender Jake Burger has created a collection of jolly recipes, transforming seasonal staple store-cupboard ingredients into a selection of delicious cocktails suitable for every Christmas moment.
Using classic festive ingredients like clementine segments, cinnamon, brandy butter and brussel sprouts (yes, really), these mouth-watering cocktails make the most out of your Christmas drinks cabinet and your leftovers. Just grab a bottle of your favourite, distinctly British, gin and head to the kitchen to create these memorable tipples.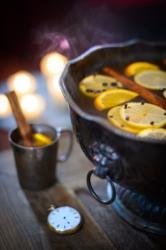 The Sitting By The Fire Moment
Charles Dickens Hot Gin Punch
Jake Burger comments: "Inspired by Charles Dickens, who knew a thing or two about drinking – particularly gin, here we present a recipe for Hot Gin Punch adapted from the guidelines given by Mr Micawber in David Copperfield. "A warm drink that heats you from the inside out it's the ideal winter warmer to greet guests with when they come in from the cold, or to make for the first snow of the year. It seems only fair to warn you that this drink requires more than a little preparation time, but it's worth the effort I promise."
Ingredients (Gives around 6 glasses based on a medium sized wine glass)
Half a bottle of Portobello Road Gin
Quarter of a bottle of Madeira
Boiling water
100 grams brown sugar
3 lemons
Teaspoon each of cinnamon, clove and nutmeg
Method:
Peel into a saucepan the rinds of three lemons, cut very thin, and with as little as possible of the white coating between the peel and the fruit, attached.
Add 100g of brown sugar, half a bottle of Portobello Road Gin, quarter of a bottle of Madeira, a teaspoon each of cinnamon and clove and grated nutmeg.
Simmer this on a low heat until it's starting to bubble. Then squeeze in the juice of the three lemons being sure to extract the pips.
Stir the whole preparation well, cover it up for five minutes, and stir again. At this point you may taste. If not sweet enough, add sugar to your liking.
Sieve through a muslin cloth. This can be done many days in advance and stored in a bottle in the refrigerator, then heated in a saucepan as and when needed.
Serve in a heatproof glass or punch cup, being sure to warm the vessel before filling.
Dilute with an equal measure of boiling water.
The Entertaining Friends and Family Moment
Jake Burger comments: "My top tip for hassle-free entertaining over the festive season is to pre-prepare a punch the day before guests arrive so you can enjoy the moment too. This delicious alternative to mulled wine can be mixed in advance and simply warmed up in a pan as and when required, before serving in your favourite glasses. The addition of juniper berries to the drink compliments the flavours of the perfectly."
Ingredients (Serves 1)
50mls Portobello Road Gin
75mls of Cider
50mls Water
Teaspoon of brandy butter
5mls of Sweet sherry (something like a Pedro Ximenez would be perfect)
Pinches of ground nutmeg, clove, cinnamon and allspice
5 juniper berries
A large twist of orange peel
Method
Stir it all up in a saucepan on a low heat until it is steaming then serve in a heatproof mug or cup.
Garnish with a cinnamon stick and orange zest.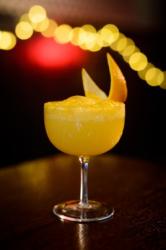 The Christmas Day Morning Moment
Clementine Gin Mimosa
Jake Burger recommends pre-preparing the juice and sugar syrup on Christmas Eve for ease and says "Perfect for Christmas Day, enjoy a glass of this with breakfast. Or, you can drink and repeat until it's time for dinner. The perfect sparkler to kick off your Christmas celebrations with a bang, this is a modern take on the classic Buck's Fizz that takes no time at all to prepare."
Ingredients (Serves 1)
10mls Portobello Road Gin
5mls Sugar Syrup
Clementine from Father Christmas from your Christmas stocking
Top with a sparkling wine like Cava or Prosecco
Method
Run a good few clementines through a juicer and strain out the bits (pre-prepare on Christmas Eve for ease). If you haven't got an electric juicer squeeze by hand.
Make a speedy sugar syrup by dissolving two parts sugar into one part boiling water (pre-prepare on Christmas Eve for ease).
Pour the gin into a Champagne flute.
Then fill the glass two parts chilled sparkling wine to one part chilled and strained clementine juice.
Stir gently immediately before serving.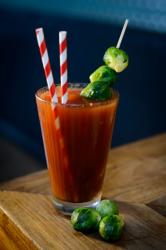 The Too-Much-To-Drink Moment
The Boxing Day Snapper
This is Jake Burger's absolute must-drink for Boxing Day morning: "We all know how it feels have a hazy head on Boxing Day morning…so we've come up with a fiery Red Snapper (the vastly superior cousin of the common Bloody Mary – made using gin instead of vodka) to make you feel right as reign again. Plus it puts those leftovers to good use."  
Ingredients (Serves 1)
50mls Portobello Road Gin
10mls Christmas Day Gravy
Dash Orange Juice
Dash Lemon Juice
Pinches of salt & pepper
Tabasco Sauce (varying the amount depending on how much heat you like)
Dash of Balsamic Vinegar
3-4 Ice Cubes
Topped with Tomato juice
Leftovers like brussel sprouts, pigs in blankets, turkey and roast potatoes
Method
Cocktail guru Jake Burger explains the secret behind making this concoction "Usually when directing people on how to mix a drink I recommend using as much ice as possible, the Snapper and Mary are the exception to this. You just need three or four ice cubes, and this is one drink you certainly don't want to shake. The best way to mix it is to pour all of the ingredients into one glass and then pour into an identical one, and then back. This drink will help a fuzzy head feel refreshed and the savoury leftovers will help satisfy those hangover cravings."
Tip: Make these in a pint glass so you really get to enjoy!
Garnish
This is where you can let your imagination run wild. Create a kebab of whatever you have left like roast potatoes, pigs in blankets, brussel sprouts, stuffing balls, roast beef, turkey, roast potatoes, roasted parsnips – whatever you fancy!
The Indulgent Moment
Amaretti and Pecan Shake
Jake Burger says "If Christmas hasn't been indulgent enough already invite you're mates over and knock their socks off with this opulent Amareti and Pecan shake…just don't be fooled by its non-alcoholic taste because it certainly packs a punch!"
Ingredients
37.5mls Portobello Road Gin
18.75mls Amaretto
3 Amaretti Biscuits
8 Pecan Nuts
2 Scoops Vanilla Ice Cream
Small scoop crushed ice        
Aerosol cream (if you have it)
Cherry for garnish (if you have it)
Method
Combine all of the ingredients and blend up in a drinks/food blender (if using a food blender be sure to smash the ice cubes up properly first).
Serve it in a milkshake glass.
Garnish witha squirt of aerosol cream, an amaretti biscuit and a cherry.
The Clock Strikes Midnight Moment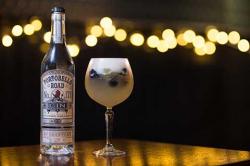 Las Doce Uvas de la Suerte Efervescencia (The Twelve Grapes of Luck Fizz)
Jake Burger says "We all like to ring in the New Year with something special so here at Portobello Road Gin we've added a touch of Spanish-ness to your midnight tipple. Inspired by a tradition where a grape is eaten on each bell strike at midnight on New Year's Eve in Spain, Las Doce Uvas de la Suerte Efervescencia is a delicious grape-based sparkling cocktail that will (hopefully) encourage a year of prosperity. Served in the traditional Spanish 'Copa' glass, grab a red wine glass for a serve that showcases the fortuitous grapes."
Ingredients
37.5mls Portobello Road Gin
18.75mls Dessert Wine
50mls Freshly pressed grape juice (using the juicer you probably got for Christmas)
15mls egg white
20mls sugar syrup
20mls lemon juice
Dash of soda water
Twelve frozen grapes
Method
In a cocktail shaker mix all the ingredients except the soda water and the grapes – being sure to add the egg white and the four ice cubes last.
Shake hard for a good 45 seconds.
Place the twelve frozen grapes and pour in a little of the soda – but only a dash – and slowly strain the contents of the shaker into the glass. Then finally top with more soda.
You should have a thick, creamy foam on top of the drink.