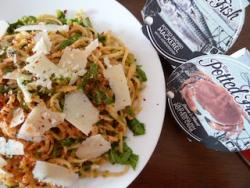 Praise where praise is due … and a 22 year old who sets up a successful food business certainly deserves that. That he claims to work with only small, local suppliers of traceable, sustainable ingredients – well, that's another plus. It helps if what he makes is edible, too – and yes, it is.
Whizzkid owner Jonathan Bailey was 19 years old when he first thought of this food venture, The Potted Fish Company. Now his products, made in Devon, are not only sold in delis (generally a mark of quality) but also in supermarkets (generally a sign of success).
Starting with Jonathan's old English potted crab, I forced my knife through the thick layer of butter to the deep coral-brown crab mixture below. The familiar crab smell – strangely earthy, for something from the sea – was divine. I so wanted to spread the butter onto hot crusty toast, dolloping a huge pile of the rich crab spread on top, and eat it as a guilty pleasure but Jonathan suggests recipes for his products so into some steaming hot, al dente linguine it went. With some finely chopped spring onions, coriander, rocket and chilli flakes – it takes seconds, this dish. A shaving of Parmesan (actually, I used its rival Grana Padano as it's what I had in the fridge) and a drizzle of olive oil and that was supper sorted and me satiated. I think he's got his proportions wrong – the crab was overwhelmed by the spring onions – so I've adjusted the recipe (below) to give the crab more of a chance. Looks pretty, too, doesn't it.
The potted mackerel with horseradish made it onto hot toast, the butter dripping down my chin very satisfyingly. It could do with more horseradish, and a quick stir before serving, but was otherwise very good. One pot could stretch to serve two as a starter or makes one very easy working lunch. Serve with salad to increase self-righteousness.
Speaking of which – there is no added gunk (flavourings, no; colourings, no; preservatives, no) which adds up nicely on the ethics scale. 
Fun packaging – with a rustic look and feel, concealing black and white photos of Jonathan fishing or with his mum – emphasises its home-style, sustainable credentials. Look out for The Potted Fish Company's products, including crab cakes and prawn cakes, in your local deli or in Sainsbury's, via Ocado, in Budgens in Islington and Belsize Park (which says a lot about those areas of London) or, oddly for a relatively fancy product, in Spar and Nisa.
Rustic potted crab linguine for two
160g dried linguine
Pot of The Potted Fish Company's Old English Potted Crab
Two to three spring onions, finely chopped (Jonathan's recipe suggest using a whole bunch; it's too much)
One to two tbsps of coriander, finely chopped (add more or less to taste)
Handful of rocket, chopped
One tsp chilli flakes
Parmesan
Extra virgin olive oil
Boil the linguine according to instructions on the pack. Drain and put it back in the pan.
Stir in the contents of the pot of The Potted Fish Company's Old English Potted Crab (I broke up the butter so it would melt quickly).
Add the chopped spring onions, coriander and rocket and toss to distribute them evenly throughout.
Divide between two plates (or just one, if you're hungry).
Sprinkle with chilli flakes, shave on some Parmesan, drizzle on a little extra virgin olive oil.
Slurp up those flavourful, pretty strands.