Piada Bar, 3-5 Bateman Street, W1D 4AG www.piada.co.uk
"I know this great little place…" It's the start of a sentence that we've all heard from a friend who's in earnest about a brand new'secret' slice of food heaven they've just unearthed. Usually this is met with a skeptical eyebrow raise and a patient smile, because, let's face it, these hidden gems never quite live up to expectation, or, when you do finally schlep down to them, they're already queued out the door by every man and his dog after a sneaky Timeout mention or instagrammer tip. But, on rare occasions, if you take someone up on their offer, you do uncover a little piece of joy, which is what happened when I visited Piada Bar courtesy of the a foodie friend tip off.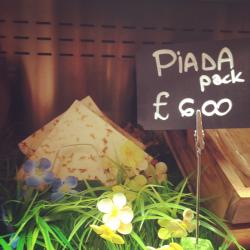 Piada Bar, an Italian sandwich joint specialising in, you've guessed it, piada – a traditional italian flatbread from Italy's northern Romagna region – lives by a very simple and beguiling motto: "eat piada every day, and you will leave for 100 years". I don't know about its ability to extend lifespan, but these hot, flavour-packed sarnies were a world away from flabby supermarket offering.
The place from outside is a rather unassuming, blink and you'll miss it affair; wedged as it is between larger restaurant behemoths along Bateman Street, a narrow lane that juts off Soho's jazz and booze thoroughfare, Frith Street.
Inside, this tiny space has a bank of stools up against its large window, a fridge cabinet overflowing with baskets of cream-filled cannolis, bitesize, burnished and sugar-dusted pastries and Italian soft drinks and not all that much room to stand. But, in truth, It soon became clear that this place isn't about sitting down and savouring the atmosphere, it's about fast, good and indisputably authentic food that you can't wait until you're outside to tear into.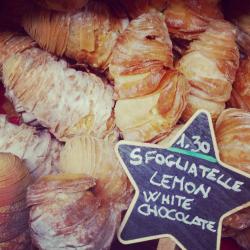 Behind the counter, the huge kitchen grills are visible and the smell of gently toasting bread wafts invitingly over as Piada Bar's founders and owners Marina, Vincinio and crew stuff, cook and wrap fresh hot sandwiches to go.
It's here that authenticity isn't just a buzzword, but an intrinsic part of their enterprise as Vincinio explained in heavily-accented english. He doesn't quite put his faith in the meat and cheese and breads available in london's many international markets and prefers to order his ingredients straight from their italian source, meaning every pack of piada bread and every vacuumed pack of ruby-red cured meat has come straight from the heart of its producer homeland. And it's this dedication to traditional flavour that comes through in my favourite of all Piada Bar's crispy sarnie offerings: the ridiculously simple Piada Ham, which comes complete with fresh mozzarella and rocket oozing out over the soft meat from its charred edges.
Aside from the punchy meats and soft, milky almost unpasteurised flavour of their three cheese piadas, this little spot has an eye on the discerning lunchbreak market. As well as serving salmon versions, a pork belly sandwich, a vegan offering packed with lovingly roasted vegetables, it offers up soups, pasta dishes and a couple of dessert piadas that induced a sort of unexpected childish glee in me – particularly the chocolate piada that dribbled melted nutella and crushed cornflakes all over my eagerly clutching mitts.
On the night that I was heading towards piada nirvana, we were treated to a guest wine pop up from Maxine Levy, who was showing off the young, fresh wines from the Castello Carboncine vineyard near venice. A family producer that uses traditional venetian oak and acacia cask methods and has a surprisingly artistic take on the concept of wine bottle labels. Definitely a brand to watch!  
Piada Bar is one of those places that you want to succeed. Not simply because the owners are so clearly passionate about what they do, but simply because the food is too good to be ignored. I will be heading back as soon as possible to and, for once, if there's a queue, I'll actually be happy, instead of unbearably irritated.