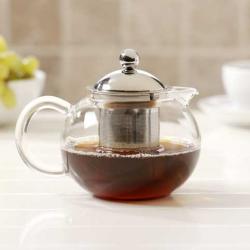 In spite of coffee being the drink that gets me going in the morning of every day, I revert to tea after a languid lunch or a comforting dinner. Tea is the signature of a well written meal. But I can be a bit of a snob when it comes to this centenary drink.
I favour the loose leaf genre not the usual tea bags which, for convenience are part of everyday tea drinking life but nonetheless look like a piece of tinted cloth floating in a cup. I enjoy opening the tea tin of a good and scented early grey, with its notes of bergamot or a smokey lapsang souchong, and with a spoon fill the compartment of a rounded teapot.
Slowly pouring the boiling water in, to then hear that warming sound of its embrace with the tea leaves which freely release a beautiful monochromatic ghost trail into the water, soon to become tea.
I also enjoy those infusions which allow me to present some of the stars from my own herb garden: lemon thyme and peppermint. For these a glass teapot is always in need. As if by aesthetic contentment, I need to stare at the twigs or fleshy leaves being soaked and turning the water jade green. I have always coveted a perfectly formed glass teapot. The market is flooded by many, of which this new Pro Cook teapot is part of.
It is crafted from glass with an integral glass handle and an inner stainless steel mesh basket in which to place loose tea (or tea bags). It is uber smart with its polished stainless steel lid. This glass teapot allows you to view the steeping of your tea to your preferred strength so you can enjoy it at its best. I really enjoyed having it as a companion on weekend afternoons, with a book on the sofa, or in my kitchen whilst I concoct something delicious.
It has a capacity of almost three quarters of a litre which is perfect for those who are big tea drinkers or for two if you would like to share. But even if it is not enough, you can always put the kettle on and again observe the infusion mature through the glass like a child mesmerized by the snow falling in a dome.
The glass teapot is priced at £12 and is available from www.procook.co.uk.