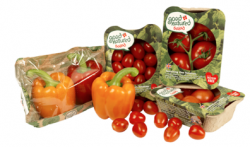 A family owned business, Good Natured was established in 1994 and since then they have aimed to use natural predators (that they like to call the good bugs) to control pests (the bad bugs) and disease, This ensures its pesticide residue free goodness all the way through, with great tasting freshness.
Not only are they Good Natured on the inside, but on the outside too. Good Natured Salads packaging is not only unmistakable with its leafy images but biodegradable and recyclable too. Made from recycled cardboard and sustainable sources the packaging is also compostable.
Good Natured are true to their word, as proven by their taste. The 'Tantalising Tomatoes' are a taste of summer with their tangy taste and fresh aroma perfect for lightly grilling on the barbecue or a Tomato and Mozzarella salad.
The 'Cool Cucumbers' create a perfect accompaniment to any summer salad with its juicy sweet taste and a drizzle of vinaigrette. Mix in some 'Perfect Peppers' to your summer salad or alternatively stuff them with fillings of your choice and grill, a healthy starter to any meal.
All Good Natured packaging state the individual expert growers who have nurtured the salads using environmentally friendly production systems. Another product in the range are the 'Tantalising Baby Plum Tomatoes' mine were personally nurtured to goodness by Richard Lewis from Cardiff. Thank you Richard!
Why not try the fresh selection of Good Natured Salads today? Available at your local Asda store.