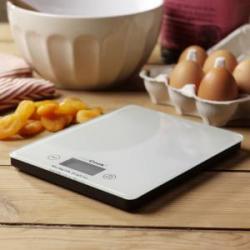 Even the most relaxed of cooks or those who trust their trained and sharp eye, need some scales when cooking. This is because they are essential for success when making dishes where the precise weight of ingredients is vital. They seem to come out of the cupboard when we see ourselves in need of baking that cake which needs to look spectacular, and the ratios of flour and egg are to be followed as in a chemistry lab.
Even my Grandmother, in the north of Portugal, with all her ancient home cooking science would enlist the services of her old, slightly rusty scales when jams needed to be made or her special caramel which coated the mould of one of her delicious puddings. I have never been a huge fan of scales, I have always found them clunky and they would take too much space in the kitchen, especially for those who live urbanite lives which normally come with small living spaces.
Until I found the new ProCook® Glass Digital Scales. These glass, simple and wipeable surface scales are simply perfect. They can weigh up to 5 kg/11lb, have an LED display and are touch sensitive. One can select either metric or imperial scaling and for me the best thing of all is the fact that they are small, being able to fit in a draw and slim enough to be stored on your cookery book shelf.
I have used them to measure my ingredients while baking some traditional Portuguese bread. I was very impressed with their accuracy and the fact that you can set it up to zero with a container or bowl on top.
The scales I tried were red which was perfect as it matched my other kitchen appliances, but if red is not your colour, they are available in white and black, too. These are a great and easy tool which will complement you in the kitchen.
ProCook® Glass Digital Scales can be purchased from www.procook.co.uk at the value price of £14.