Cantina del Ponte, 36c Shad Thames, London, SE1, 020 7403 5403 www.cantinadelponte.co.uk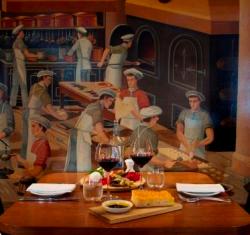 'What's the point of sitting inside at a restaurant whose USP is the view of Tower Bridge?" I whisper, menacingly, to a quivering S at Cantina del Ponte. S, who arrived at the Italian restaurant ten minutes before me, has happily plonked herself inside on a summer's night when I wanted to sit on its lavender and olive-planted terrace.
The inside has dark pastoral murals on the walls and is pleasant enough but the bridge beckons. After a few minutes of mutual hissing, I win, of course, and we decamp to the lovely European-style riverside seating at London's Butler's Wharf. I give S the superior view of the Thames to make up for my earlier bullying bout and she seems contented.
In March 2011, Cantina del Ponte welcomed its new head chef, Claudio Gottardo. The Pasta Master was born and raised in northeast Italy, before working Michelin-starred restaurants across the country. Before joining Cantina, he was head pastry chef at Dolada in Mayfair. On the Tuesday night we went, the place was buzzing with either tourists or office workers in a relaxed atmosphere helped somewhat by the efficient and friendly service.
Annoyingly I'd had pasta for lunch so instead plumped for all the other classics that night. I started with an antipasti of burrata with anchovies' pesto and tomato terrine – I've had incredible burrata and while this was fine, and the anchovy correctly underplayed, the cream and cheese weren't as integrated as I've enjoyed. S loved her marinated salmon and potato pie with green salad and cherry vinegar – I couldn't really discern the cherry but it was a hot little pot and flavoursome.
While my main of mussel stew did the job and tasted OK, what I was most disappointed about was its slightly misleading name, at least for me. If someone says mussel stew with garlic, olive oil and parsley, I expect a broth, a stew, a hearty meal. I KNOW that what I got is what's traditionally called mussel stew. But I, with the misplaced idealism I usually keep at bay, was hoping for something more. This was just a pot of mussels in slightly too salty liqueur – fine and possibly my fault for not checking first.
S, though, was having a booty night, first the Thames view and next her lobster linguine with chilli and tomato sauce. This, she said, was good, generously portioned with enough lobster meat. Although for £18 for a dish of mainly pasta, I'd expect that. But we both agreed it was a little flat. A bit more tang, a bit more chilli, something more was needed to tickle the tongue sensors.
My tiramisu was tight, alcoholic and comforting. S's chocolate mousse with redcurrant sauce was excellent, a rich, silky ball of chocolate nesting in spun sugar with a spray of fleshy, attractive redcurrants. S had pretty much scored trumps in her choices and my choice, to sit outside, was also a success. Cantina del Ponte is in a lovely location, its food, I'd say, good tourist fare with a few quid mark up for the views. It's not fine dining but you could do a lot worse than stop here on a balmy riverside walk one evening.